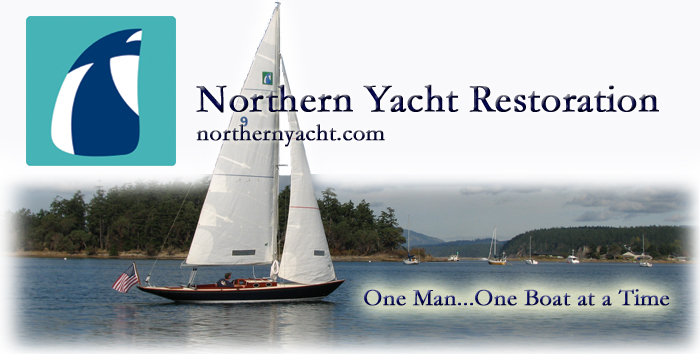 110 Cookson Lane | Whitefield, ME 04353 | 207-232-7600 | tim@lackeysailing.com
Home
| Contact Lackey Sailing |
Conversion Projects
|
Project Logs
|
Tim's Projects
|
Flotsam

Southerly | Wednesday, November 26, 2014

Continuing work on the liferaft bolt holes, I sanded the new patches as needed to smooth and bring the fiberglass flush with the surrounding decks, then applied a coat of epoxy fairing compound.

A section of the cabin sole in the passageway had suffered damage over time from the leakage coming from the hanging locker, and the veneer had delaminated from the substrate in one area. Earlier, I glued this back in place, and with the veneer now reattached I masked off and filled the small seam with blackened epoxy to bring it flush with the "boards" on each side, as well as matching the original appearance of the sole.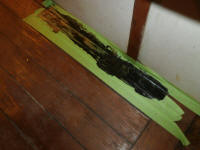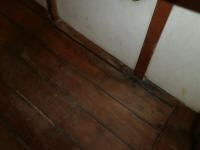 Next, I turned to the exterior brightwork, starting with the cabin top handrails. These required a thorough sanding to remove some sun-damaged finish (Cetol Lite), after which I masked off the rails and applied the first of two or three maintenance coats of Cetol Lite, the owner's choice of finish. I'd be doing this to all the exterior brightwork over the coming days, but with a short day on tap before the holiday I focused on just the handrails for now. This also meant that I could complete the handrails before turning to the new nonskid paint on the coachroof to hide the new repairs.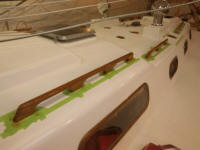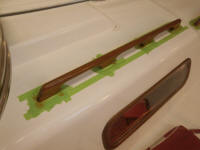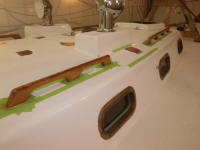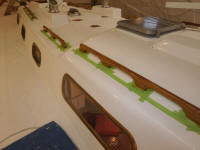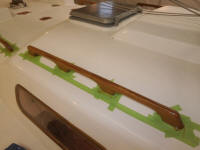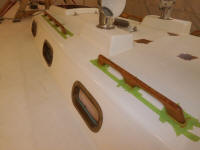 Total Time Billed on This Job Today: 3.25 Hours