Skeedeen | Tuesday, April 21, 2009

I began, as is my wont, by sanding the existing varnished bits and cleaning them to prepare for varnish later in the day.

It took far longer than I'd expected to complete the old varnish stripping on the companionway trim and other small bits of trim at the forward end of the cockpit--2 hours. I was quite surprised, but then there were a lot of surfaces, and a lot of tight areas to reach.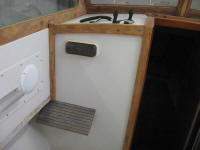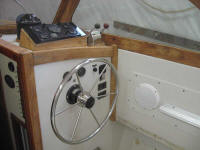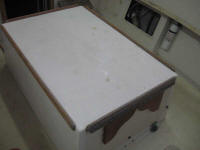 In any event, I completed the stripping and moved on to sanding all the wood of the windshield, companionway, and helm area. Because of various angles and obstructions, there was little of the aft side of the windshield that I could machine-sand, so after doing what I could the the machine before lunch, I continued in the afternoon by hand-sanding the remainder with 80 grit.

Before jumping into the sanding, however, which I suspected was going to take the remainder of the day and more, I decided to apply the varnish to the doors and trim in other parts of the shop, so that I could keep that process going without running out of time at the end of the day.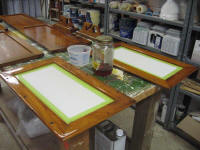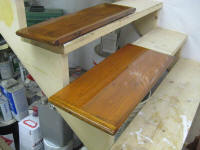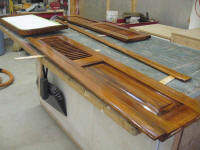 I was glad I did this, since it took all afternoon just to finish the 80-grit sanding on the cockpit side of the windshield and surrounding areas. I had enough time left in the day to begin the finer sanding in a couple areas--the engine box and companionway--which I completed through 220 grit. The boat's a mess in these photos, but I didn't see the sense in cleaning up when I'd just be sanding more tomorrow.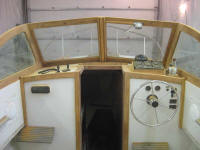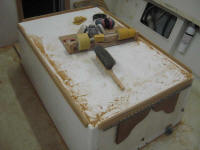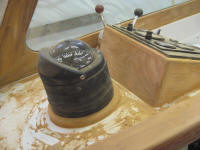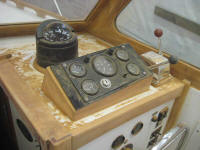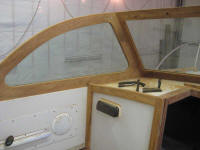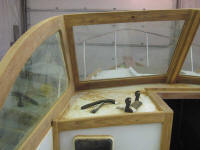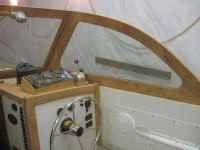 Fortunately, the subsequent grits take much less time than the initial 80-grit sanding, so although I didn't finish all the sanding on the windshield today, as I had hoped (and, frankly, expected) to, I knew that I'd be able to finish up the prepwork tomorrow and begin building the varnish on these areas, while coming close to wrapping it up on many of the small parts at the same time.

I didn't apply any varnish to the boat itself on this day, as there was too much dust in the air and on the boat, and it was more important to keep the sanding process going in order to complete the bulk prep.

Total Billed Time on This Job Today: 7.25 hours