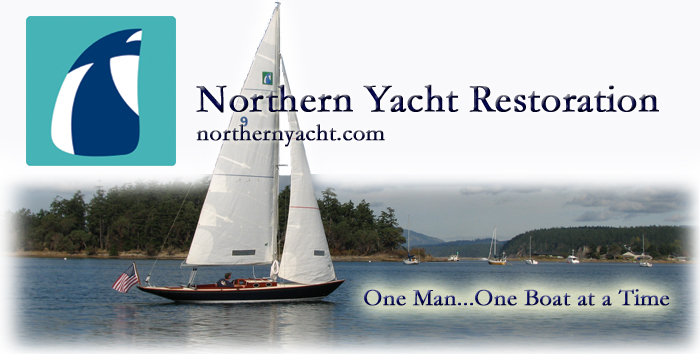 110 Cookson Lane | Whitefield, ME 04353 | 207-232-7600 | tim@lackeysailing.com
Home
| Contact Lackey Sailing |
Conversion Projects
|
Project Logs
|
Tim's Projects
|
Flotsam

S

ailmaster 131

| Wednesday, September 25, 2013

The division between paint preparations and other work was heavily skewed in favor of paint prep this day, not necessarily by intention but simply because that's how it ended up working out.

To begin, however, I started with the exterior woodwork trim on the bench, and applied a first coat of Cetol to various pieces of the trim, along with a second coat on the cockpit coamings.

Next, since I planned to apply high-build primer to the hull and deck within a few days, I decided to restrike the waterline and get this more time-intensive job behind me earlier than later. First, I leveled the boat from side to side, making minor adjustments to the trailer stands.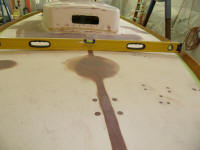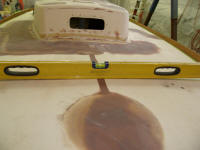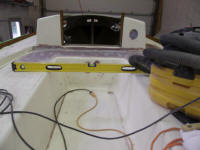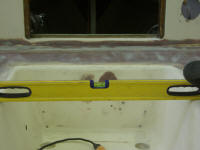 Once the boat was level, I used measurements I'd taken earlier in the project to mark the position of the original waterline on the stem and stern and then set up transverse level beams at this height, one at each end of the boat. From here, I strung a taut string between the beams, creating a horizontal plane representative of the waterline.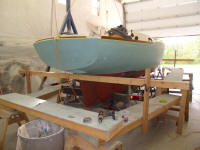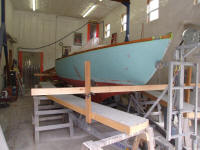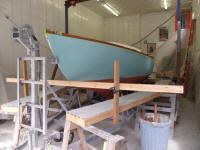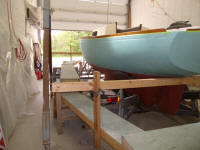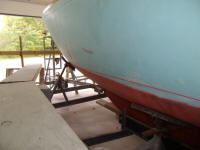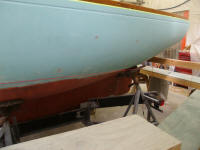 Starting amidships and working towards each end, one side at a time, I brought the line in touch the hull, securing it with tape and marking the position, till I'd made enough marks on the hull to use for masking reference.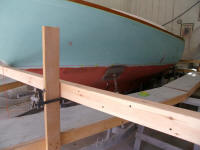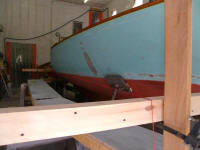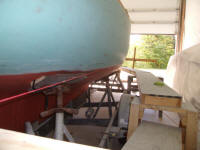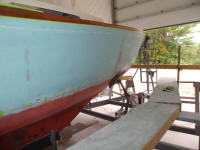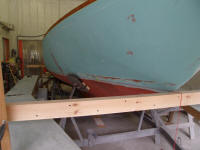 Then, I masked off the waterline (i.e. top of the bottom paint) according to the marks I'd made. I'd prime and paint the topsides down to this tape line; later, I'd use the same process to restrike the boottop.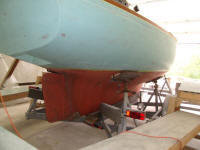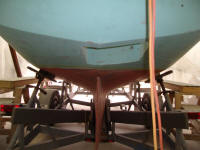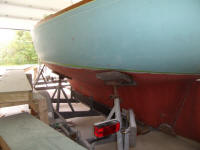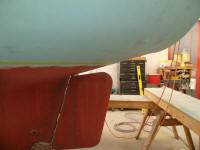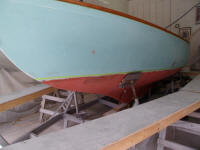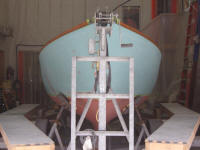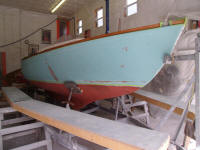 After dismantling the beams and supports, and a few other shop preparations, I'd intended to get started on some finish stripping inside the boat, but ran out of time, so I ended the day with another coat of Cetol on the toerails.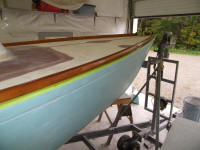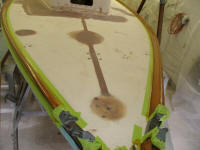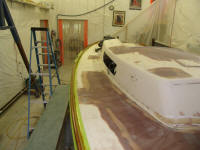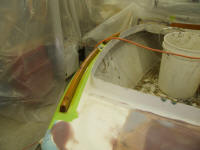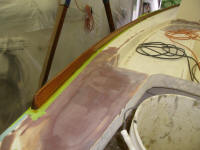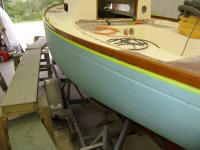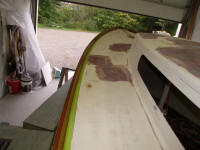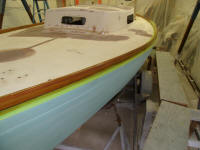 Total Time Billed on This Job Today: 7.5 hours