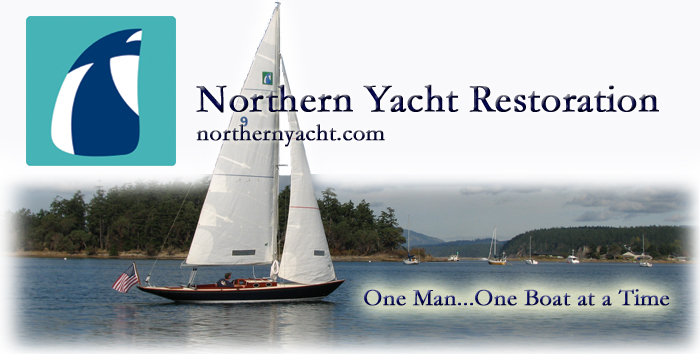 110 Cookson Lane | Whitefield, ME 04353 | 207-232-7600 | tim@lackeysailing.com
Home
| Contact Lackey Sailing |
Conversion Projects
|
Project Logs
|
Tim's Projects
|
Flotsam

S

ailmaster 131

| Thursday, September 26, 2013

After some weeks of sanding and structural work, the shop, which I'd tried to keep clean at least on the surface, required a more thorough clean-up in preparation for the upcoming paint work. So I began the day by sweeping out corners, blowing down the walls and other surfaces, and cleaning out excess equipment and clutter as much as possible, bringing the level of cleanliness to a more acceptable point.

After vaccuming and solvent-washing the boat, I got to work on some of the masking required for the primer ahead, closing off the port and hatch openings in the cabin, covering open fastener and plumbing holes and portions of the lazarette.

Next, I installed plastic around the bottom of the boat to protect the trailer from overspray.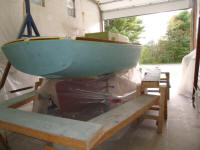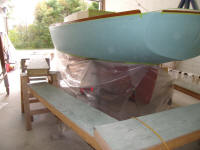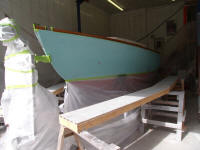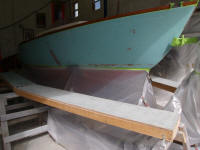 There was more taping to be done, but that'd wait till the toerail finish was complete, which was my next task. So before the end of the day, I applied a third coat of Cetol to the toerails. Some non-related events cut into my afternoon, so I didn't get a chance to apply more finish to the other wooden parts, but those were less time-sensitive than the toerails, completion of which was required before I could finish up the high-build primer preparations.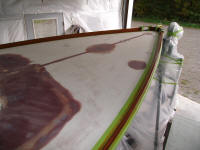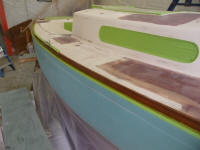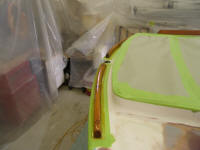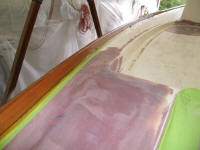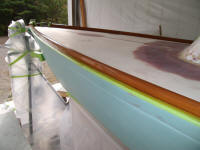 Total Time Billed on This Job Today: 5.75 hours