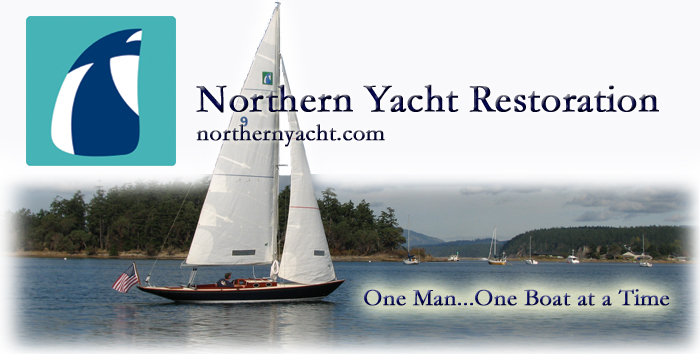 110 Cookson Lane | Whitefield, ME 04353 | 207-232-7600 | tim@lackeysailing.com
Home
| Contact Lackey Sailing |
Conversion Projects
|
Project Logs
|
Tim's Projects
|
Flotsam

S

ailmaster 131

| Monday, September 23, 2013

Over the weekend, I took the time to sand the most recent application of filler in the cockpit area, then applied fine filler to take care of the final minor voids and pinholes throughout the space, catching it up with the remainder of the deck.

To begin the new day, I sanded the cockpit and all other deck areas with 120 grit on a vibrating finishing sander, removing excess fine filler and generally fine-tuning the whole area. This would be the final sanding before high-build primer.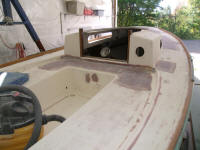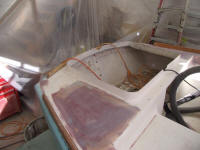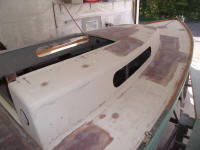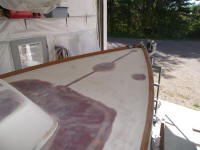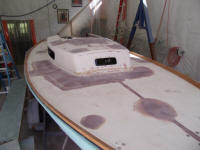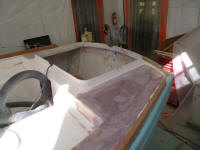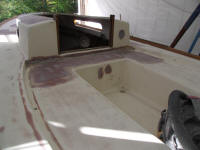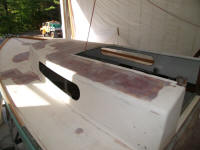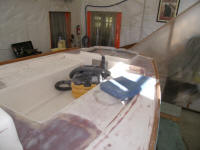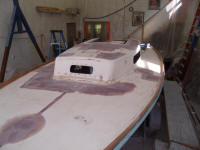 Following a phone conference a few days earlier, the owner and I had agreed upon a plan for the interior refinishing, so with that plan in place I got to work in the cabin. In addition to refinishing the various surfaces--paint and varnish--the plan called for the existing galley and head areas to be rebuilt in a simple manner, since the existing cabinets were in poor condition. Elsewhere, I'd make non-structural repairs as needed to certain areas of the bulkheads to extend their life and prepare for painting.

To begin, I removed six sections of shelving along the hull from the chainlocker to the quarterberth. These shelves were in poor condition, particularly to starboard where they were badly water damaged, and I'd remove them to clear the way for the work ahead.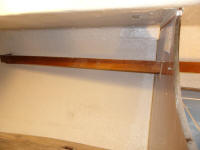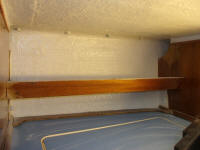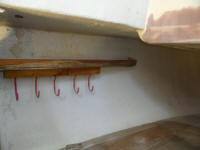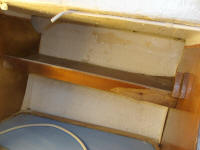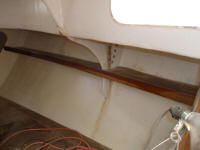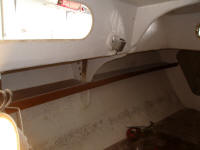 Each shelf was bolted to a molded flange in the hull with several bronze machine screws, most of which were corroded and broke when I made efforts to remove the nuts, which was fine since it accomplished the same goal. Without too much hassle, I got all six shelves and their fasteners out of the boat. Meanwhile, I removed two interior light fixtures, some remaining wiring, and the existing bilge pump and wiring, along with the water fill hose and other hoses related to the galley sink.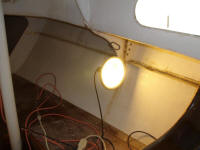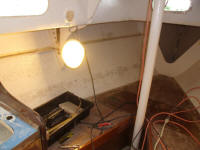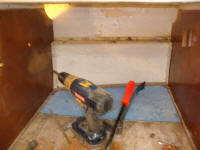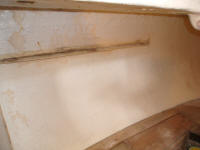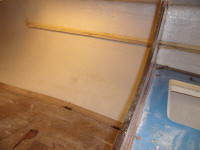 Next, I removed the galley countertop, sink, icebox, and remaining cabinetry, leaving the two transverse bulkheads in place.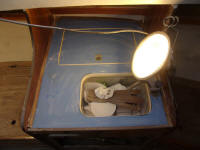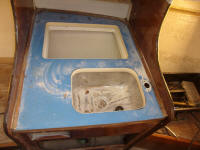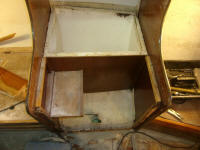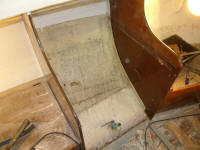 Across the way, I removed what remained of the cabinetry that had covered the old porta-pottie. Both areas would later be rebuilt with simple matching countertops and cabinet fronts.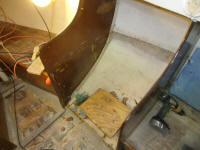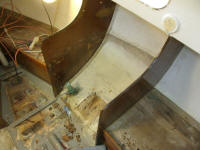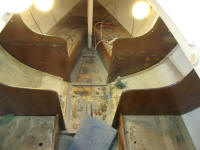 With demolition complete, I got to work preparing the various interior surfaces for refinishing. Starting all the way forward in the chainlocker, I sanded the inside of the hull and undersides of the decks, all the way aft to the galley area, removing flaking paint and otherwise preparing the surfaces for new paint. This brought me to the end of the day; I'd continue with the after portions of the boat next time.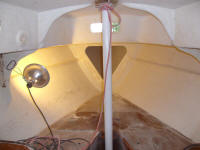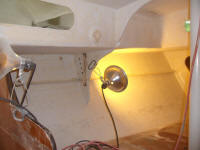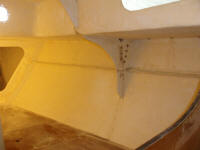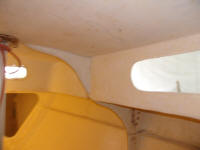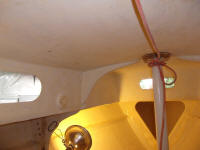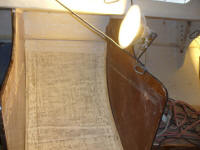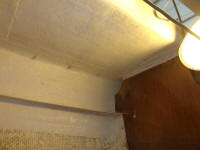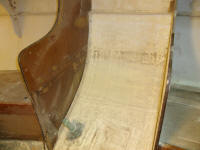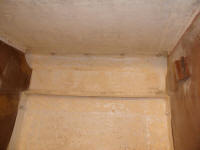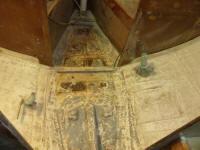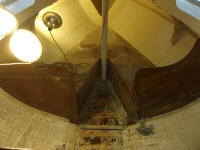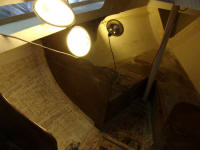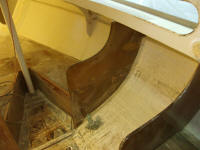 Total Time Billed on This Job Today: 9 hours