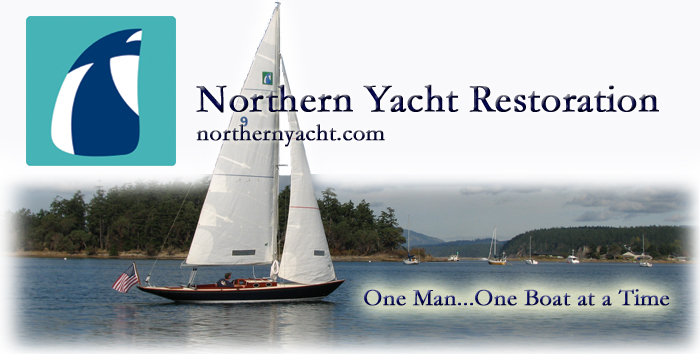 110 Cookson Lane | Whitefield, ME 04353 | 207-232-7600 | tim@lackeysailing.com
Home
| Contact Lackey Sailing |
Conversion Projects
|
Project Logs
|
Tim's Projects
|
Flotsam

Ms Lynne G | Friday, September 12, 2014

After removing the weights securing the new core in the cockpit, I lightly sanded the area and made final preparations for laminating new material over the top. I prepared three layers of new fiberglass: the first cut to the size of the core itself, which made up the slight height difference between core and the edge of the existing laminate; and two overlapping layers to tie in with the surrounding deck areas.

With preparations complete, I installed the new fiberglass in epoxy resin.

Meanwhile, I lightly sanded around the lazarette hatches where I'd filled the voided core areas with epoxy.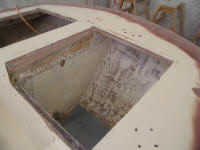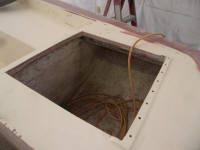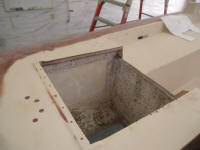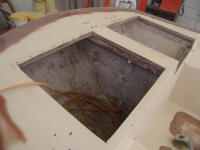 After initial consultation on the first round of port placement and layout, we decided to try lowering the ports' centerline by some amount, since the way the various components of the cabin trunk worked visually seemed to make the initial placement seem too close to the top. I tried a couple things before settling on dropping the ports by 1/2", while leaving the fore-and-aft placement the same. This looked much better, and avoided the appearance of crowding either the top of bottom of the cabin trunk. To help with visualization, I covered the raw epoxy patches behind the templates with some manila folders.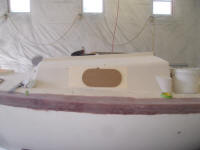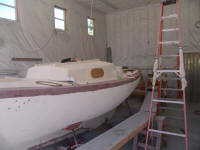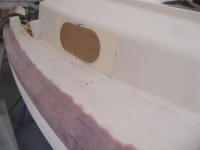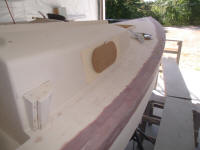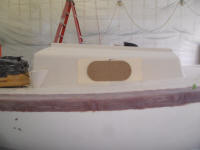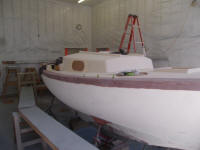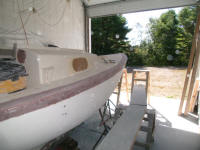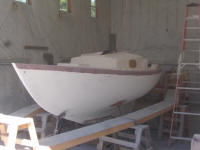 Using more card stock, I prepared a template of the ports' cutout itself, which I'd use later to mark the actual opening once we confirmed the final placement. I used one of the trim rings as the guide for the size of the cutout.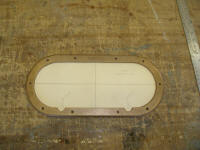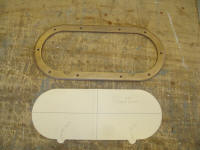 In discussing some of the boat's color choices, the owners requested a few samples for potential nonskid colors, covering a spectrum of beige tones, from unmodified beige to as light as 25% beige mixed with 75% white. From leftover beige and white nonskid paint, I prepared a few samples and set them aside to dry, after which I'd send them to the owners for perusal.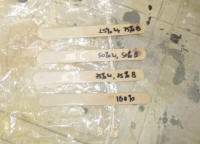 Later, after a final cleanup and solvent wash, I applied a coat of fine fairing compound to the deck and gunwale areas. This thin skim coat worked to fill pinholes in the regular epoxy compound, as well as work out any remaining low areas that might exist.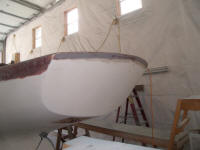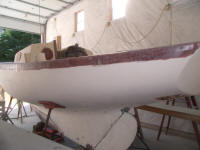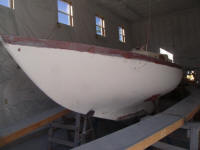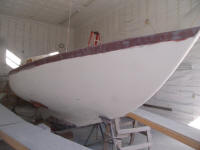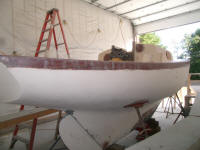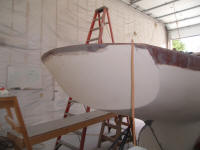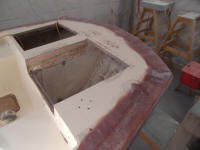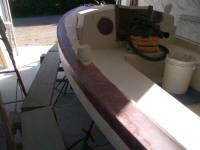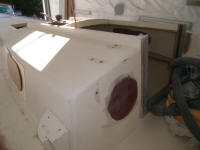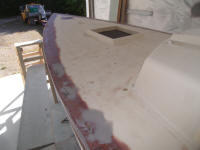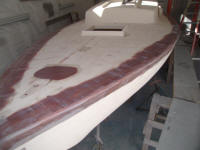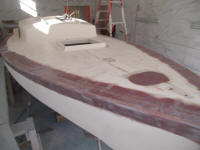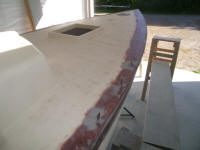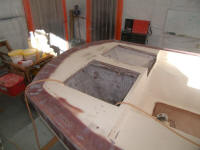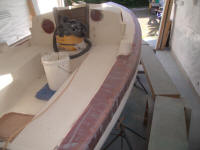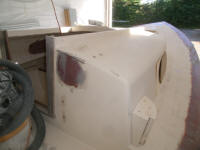 Total Time Billed on This Job Today: 4.75 Hours