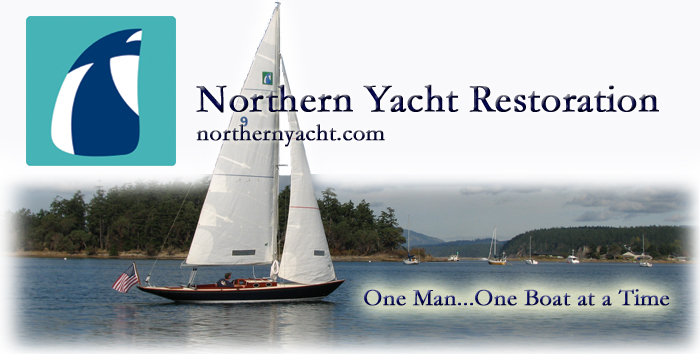 110 Cookson Lane | Whitefield, ME 04353 | 207-232-7600 | tim@lackeysailing.com
Home
| Contact Lackey Sailing |
Conversion Projects
|
Project Logs
|
Tim's Projects
|
Flotsam

Ms Lynne G | Friday, September 5, 2014

With a day of patching and hole filling ahead, my first task was to vacuum the decks to remove dust, after which I solvent-washed to prepare the areas in question for the new fiberglass and filler as needed. Inside the boat, I used more solvent to wipe beneath various fastener holes and other areas so I could cover them from beneath with tape.

To provide a molding surface for the porthole opening patches, I cut two pieces of cheap plywood to size and covered them with plastic before pressing them in place with a brace across the boat between the two sides. The thin plywood was stiff enough to form a good backing, but flexible enough to conform to the curvature as required.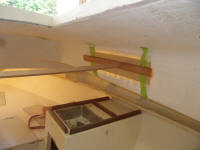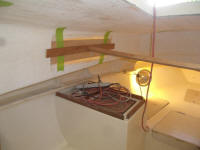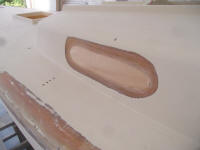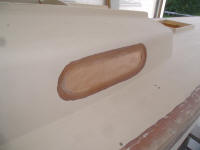 For each of the large openings, I measured and prepared layers of new fiberglass for the patches. For most openings, I began with a piece that fit inside the hole itself, to bring this flush with the surrounding areas, then larger, concentric pieces to fill out the remainder of the repair, 2-3 layers depending on the location.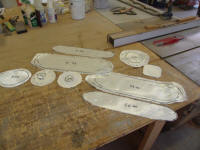 After final preparations, I saturated the patches with epoxy resin and installed them in all their respective openings. For the chain pipe opening in the cored foredeck, I began with a piece of 1/2" plywood cut to fit within the hole, to match the existing coring in the area (a plywood centerline strip flanked by balsa on each side). I coated the plywood in epoxy and set it in position with a thickened epoxy adhesive around the edges, then applied the fiberglass patch above.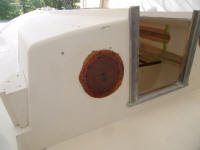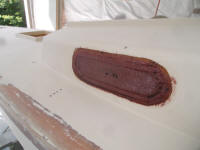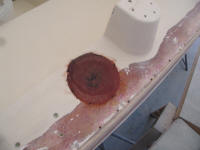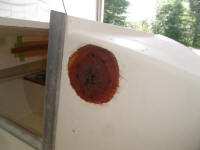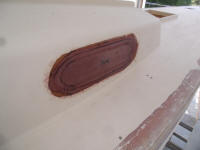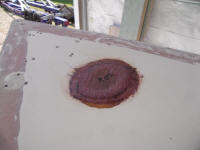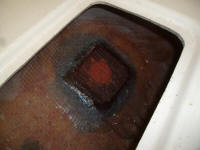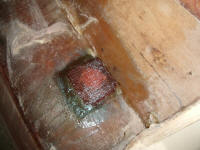 Later, I applied a first round of epoxy fairing compound to the numerous fastener and other small holes in the deck.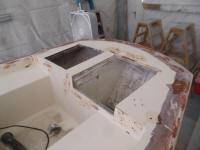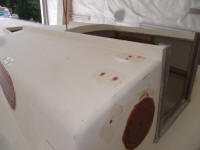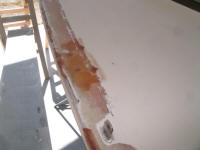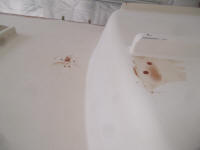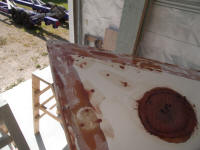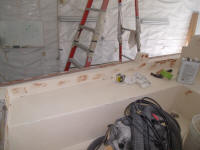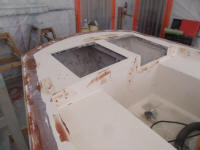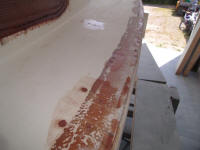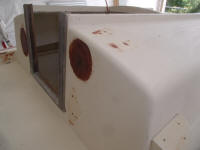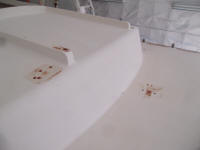 To round out the day, I cut lengths of 6" and 4" tabbing that I'd use soon to cover and reinforce the gunwale.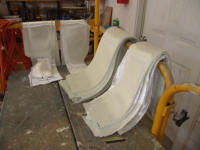 Total Time Billed on This Job Today: 7 Hours