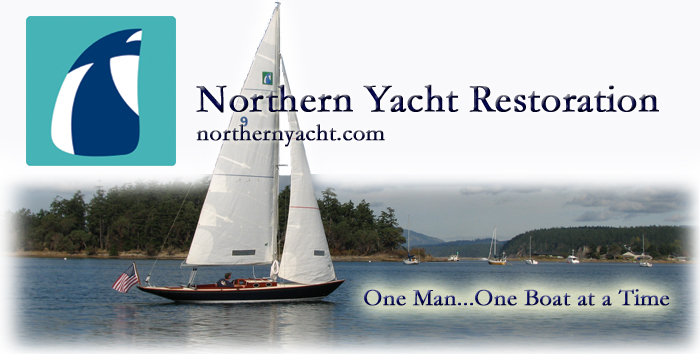 110 Cookson Lane | Whitefield, ME 04353 | 207-232-7600 | tim@lackeysailing.com
Home
| Contact Lackey Sailing |
Conversion Projects
|
Project Logs
|
Tim's Projects
|
Flotsam

Ms Lynne G | Tuesday, October 21, 2014

Next on the agenda was the wood trim in the cabin and companionway, which I'd postponed as I focused on the most major tasks on the project list. Now, I sanded the trim around the icebox and sink to clean and smooth it (it had never been varnished) and prepare it for finishing. I also sanded clean and smooth the companionway trim that I'd left in place, both inside and out.

After cleaning up, I masked around the trim as needed.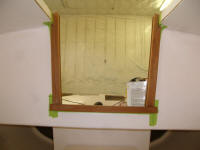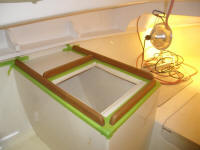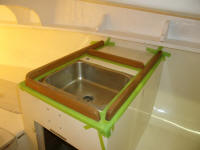 Then, I applied a sealer coat of varnish.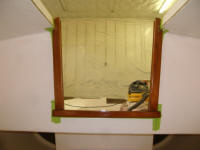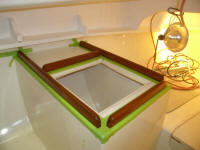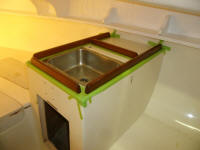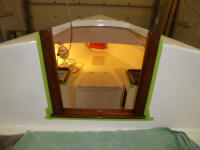 I also sanded smooth and varnished the new galley door, and applied a coat of primer to the plywood panel.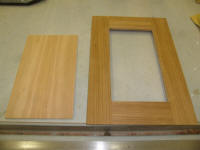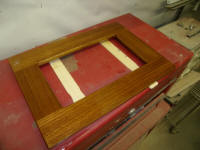 Next, I prepared the icebox hatch for its new ring pull, which required a round hole to fit flush. I'd finish the varnish work on this piece before permanently installing the new hardware.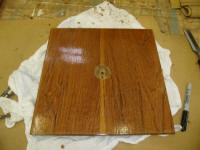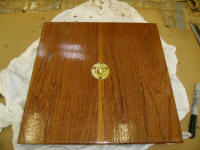 For the wooden hatch in the step area beneath the companionway, I installed a brass turn latch to secure the top of the hatch in its opening. This required a good-sized hole and a fair bit of material removed in order to fit flush. Again, I'd postpone final installation till I'd completed the varnish work.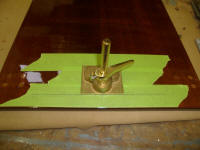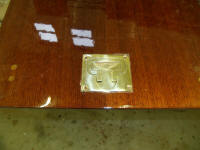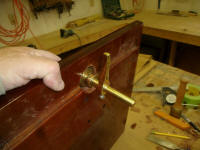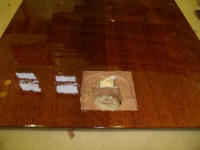 After light sanding as needed, and final preparations, I applied more varnish to the various trim pieces I'd been working on for a while.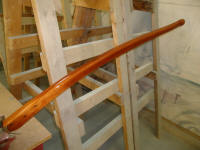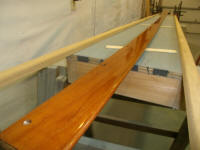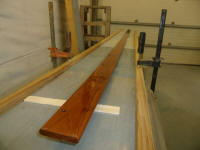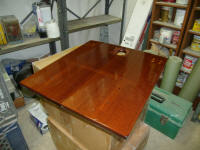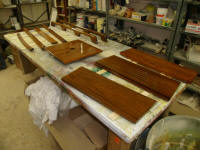 Next, I painted the bottom. However, I was extremely disappointed with the color of the green paint that I selected (a brand that I chose since I was sure I'd used it successfully before...after further investigation it turned out I was mistaken). This was the darkest, deadest, muddiest, most unlively green I'd ever seen in an antifouling paint, and though I went ahead and applied one coat (the paint was otherwise fine, and perhaps I hoped it would magically lighten upon application), the color wasn't at all what it was supposed to be, and I ordered another brand of paint so I could finish the job correctly.

I'd planned on two coats anyway, so I'll just call this initial coat the "signal coat" and move on. This boring forest green paint might look OK in other applications, but against the dark blue it just lacked the "pop" required.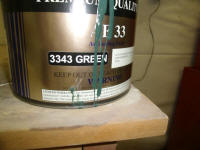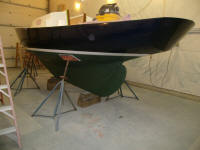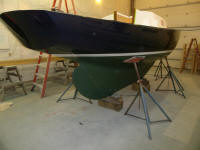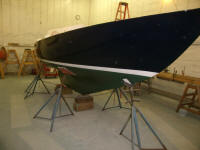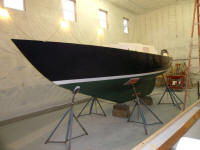 There was additional new woodwork to complete--cockpit coamings, plus the stem and taffrail--but I awaited arrival of a new planer before I could attack this work, as my old low-end planer, after years of non- and mis-use, had finally packed it in for good (I happily tipped the miserable thing into the dumpster), and though I'd been postponing the purchase as long as I could (longer, actually), I'd no choice now in order to properly dimension the new wood for these jobs. So those tasks would have to wait just a bit longer.

Total Time Billed on This Job Today: 7 Hours