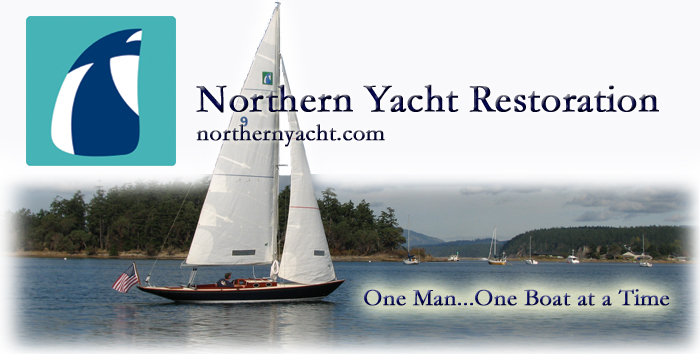 110 Cookson Lane | Whitefield, ME 04353 | 207-232-7600 | tim@lackeysailing.com
Home
| Contact Lackey Sailing |
Conversion Projects
|
Project Logs
|
Tim's Projects
|
Flotsam

Ms Lynne G | Saturday, August 23, 2014

The original teak toerails were heavily weathered and featured several damaged areas. The toerails were installed over a vinyl rubrail system that overlapped the deck beneath the toerail, and hung over the edge of the hull, covering the hull-deck joint and making a quick and inexpensive construction for the original builders. The owners made the decision to replace the toerails and reconfigure the exterior part of the joint to provide a better overall appearance. Along with the toerails, I'd also remove and rebuild the taffrail and stem piece.

Beginning on the port side, I removed the rail. With no plans to reuse the existing wood, I used a chisel to remove the bungs over the fixing screws as I moved forward; the screws came out easily. With little sealant beneath, the wooden rails were easy to remove, and I set the pieces aside to use for future reference in designing and building the new ones later.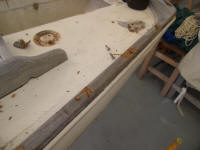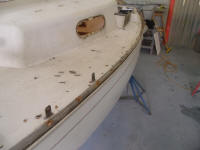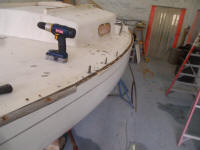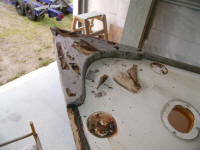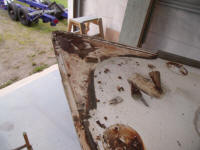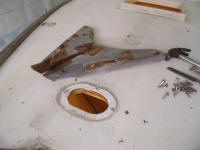 The vinyl rubrail was secured to the deck with small rivets, and pulled away easily. The future plan for the hull-deck edge included rounding over the corner and tabbing over the seam to further secure the seam (the joint was fully glassed from within, so the new tabbing was not needed structurally), and to provide a pleasing curved edge, with the new toerail to be set just within. I banged the remaining rivets flush, but later I'd sand these smooth before glassing over the whole thing.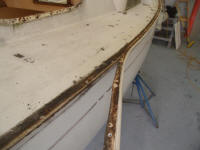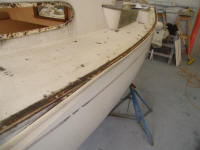 The taffrail was secured with numerous screws on each side, and other than a couple recalcitrant screws that were more challenging to remove (it looked like there'd been a repair to the port aft quarter, as a small section of the toerail and the taffrail here were secured with different fasteners and sealant), it came off easily enough, and I reserved the pieces for use as patterns later.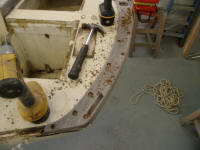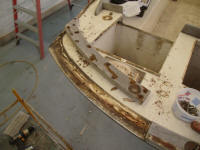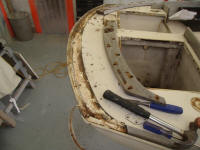 Meanwhile, I repeated the toerail/rubrail removal process on the starboard side.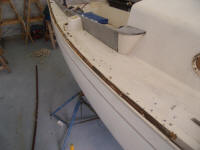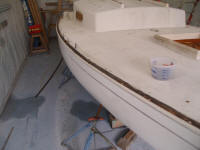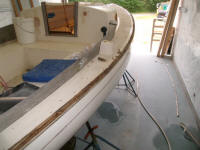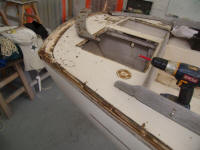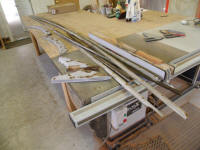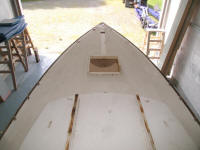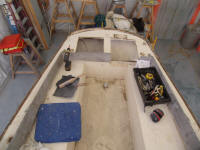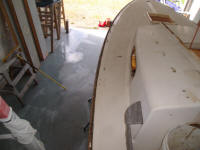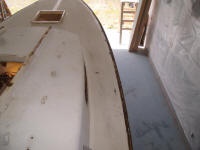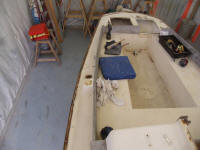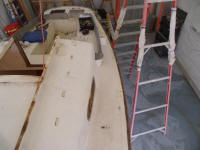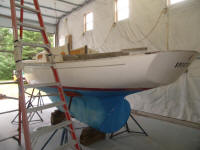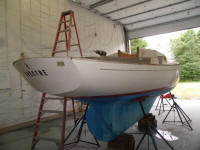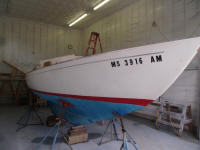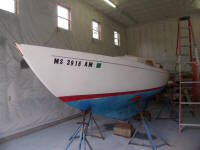 The owners also elected to replace the cockpit coamings to match the new toerails. As elsewhere, I removed the bungs over the screw heads and unfastened the coamings, a straightforward chore. I set the pieces aside for use as patterns later.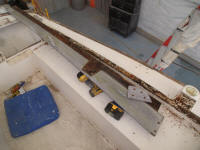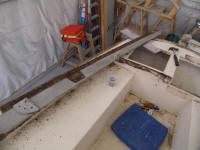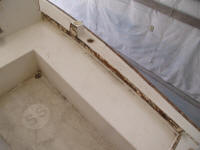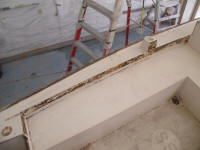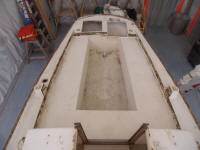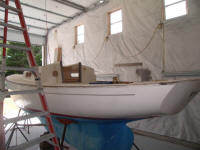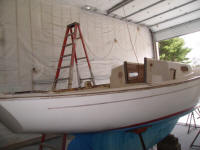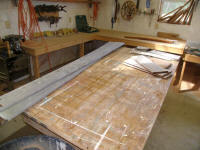 Inside the boat, I removed five through hulls: the galley sink drain; depth transducer; speedo; two cockpit scuppers. At the galley, I found that the sink was just screwed in place, so I removed it to gain easier access to the space. Beneath the companionway, I removed the battery tray, as it was no longer needed and stood in the way of access to the scupper fitting just beyond.

With no plans to reuse any of the plumbing, I cut through the through hulls and plywood backing plate just below the fixing nuts in each case, and banged out the remaining fitting.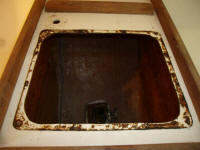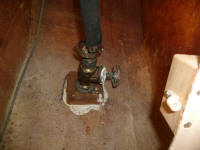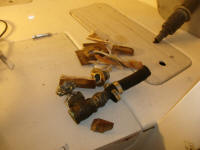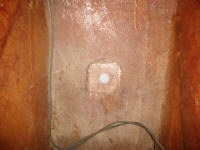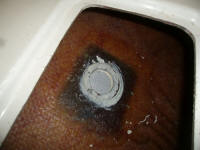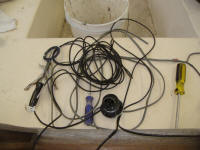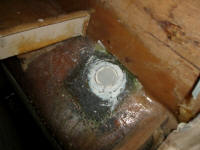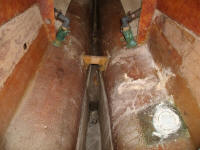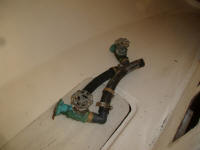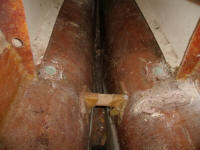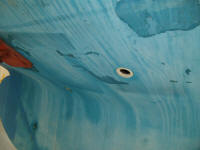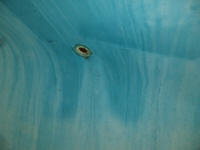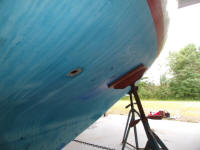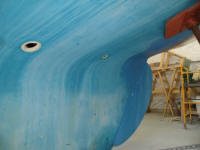 Finally, I removed whatever wiring and plumbing remained inside the boat.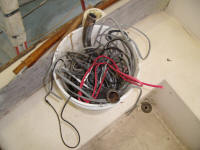 Total Time Billed on This Job Today: 4.75 Hours