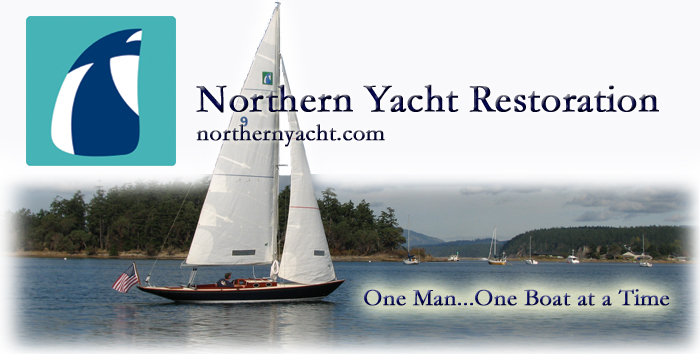 110 Cookson Lane | Whitefield, ME 04353 | 207-232-7600 | tim@lackeysailing.com
Home
| Contact Lackey Sailing |
Conversion Projects
|
Project Logs
|
Tim's Projects
|
Flotsam

Khasanah | Friday, April 5, 2013

After another round of sanding, the coachroof was ready for some minor additional fairing work, mainly to fill small low spots remaining from previous troweling efforts.

After sanding the fairing compound over the exterior through hull patch, only one small divot remained to be filled.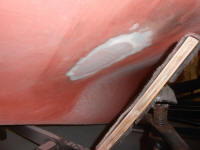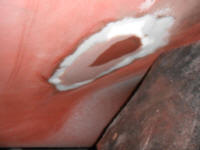 I lightly sanded the primer over the chainplates and aft deck areas, then applied a coat of white enamel to the chainplate areas, the first of at least two coats here. On the aft deck, I masked around the nonskid, then applied the first of two coats of new nonskid paint.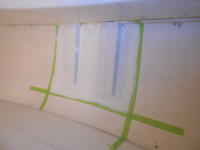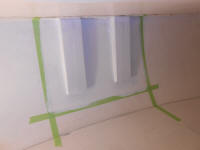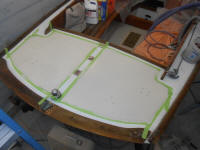 After spending the week building up varnish on the newly repaired rubrail and toerail, I finished up the work in that area with a new section of brass rubstrip to match the original and fill in the gap where the damaged area had been.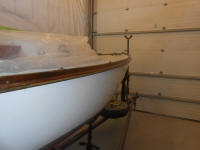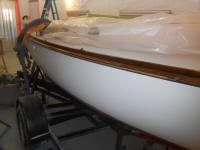 Total Time on This Job Today: 2.5 hours