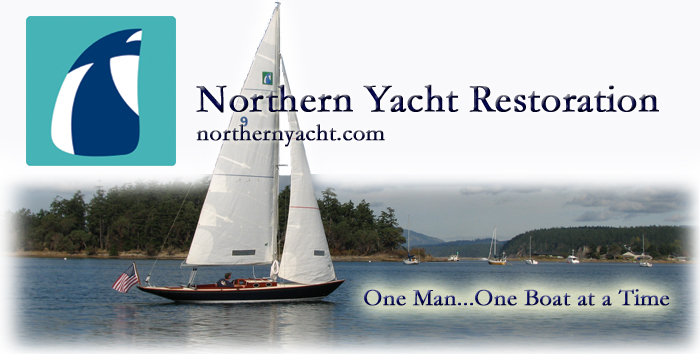 110 Cookson Lane | Whitefield, ME 04353 | 207-232-7600 | tim@lackeysailing.com
Home
| Contact Lackey Sailing |
Conversion Projects
|
Project Logs
|
Tim's Projects
|
Flotsam

Khasanah | Tuesday, April 2, 2013

Before getting back into the recore, with its associated dust and contamination, I applied the new name to the transom while the area was still operating-room clean (not really). I laid out a centerline and horizontal (level) base line and, after a few trial fits, applied the new vinyl. Because the curvature of a traditional transom forces straight graphics into a smile shape, I cut the masking sheet between the letters as needed to allow me to lay them out along the level baseline.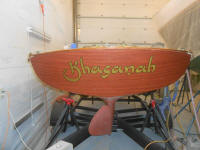 After removing the weight and plastic from the new core, I washed and sanded the surface as needed to prepare it for the steps ahead.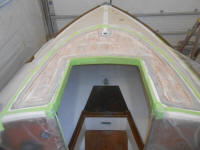 Next, I laid out and cut fiberglass for the new top skin, beginning with one layer just over the core to bring it level with the edges as needed, followed by two overlapping layers to cover the whole area, tie it in with the surrounding material, and provide the requisite skin thickness. I laminated the new material in one session with epoxy resin.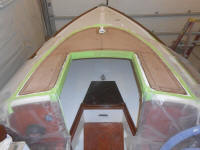 Total Time on This Job Today: 3.5 hours