Kaholee Refit | November 14, 2007

Before Hallett arrived with the canvas, I had to first install the two turning blocks for the traveler setup in the holes I prepared the other day. So, following the usual procedure, I drilled and tapped the holes, and installed the blocks in a bed of sealant using the appropriate fasteners.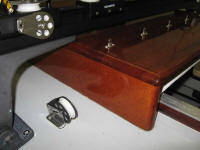 During several hours over the middle of the day, Richard Hallett began the dodger installation. A need for minor adjustment of the canvas product often arises during this fitting, and today was no exception. While overall the dodger looked good, there were some slack spots in the top portion near the sides, particularly to port. A minor adjustment and resewing would take care of this easily. The starboard dodger wing was also slightly off, and with these various adjustments required, he chose not to install all the snaps and fasteners along the sides of the dodger, leaving that for final installation after the adjustments were made. In addition, some forward-facing tubular braces for the dodger, which will hold it tight and rigid without the wings' support, had not yet been fabricated or installed.

Please note that a variety of scrap plastic and fabric is taped over all the windows for protection, hiding the actual material from view.

Next, Richard turned to the bimini top. Again, this was a test fit only, and the looseness seen in the fabric top at this time will eventually be able to be adjusted out with additional screw-adjusting braces that he planned to use to support the bimini bow frame. The adjustable braces will allow the top to be tightened appropriately; at this fitting, the bow was secured only with tape.

With the top in place, it was time to template the side and back curtains for fabrication.

Finally, Richard took a template of the v-berth for new cushions, since the pre-existing cushions didn't fit the space.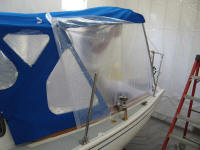 Afterwards, I ran a quick errand to pick up some basic materials from which to build a winter cover framework--2x4s for a ridge, and plastic piping mainly designed to keep the tarp away from the hull (similar to what I do with my own boat), since the ridge alone would provide the support and pitch required for the tarp. I had enough time in the day to set up the ridge and install some chafe gear. It's not high tech, but it'll work. In the next day or three, I'll complete the tarp support and move the boat outdoors for storage till spring.