Equinox Project | Thursday, March 12, 2009

It was a day of miscellany. After spending a few minutes looking into a couple future equipment choices for the boat, I took my plywood engine mount mockups to a nearby machine shop and dropped them off for fabrication.

Back at the shop, I cleaned and sanded the epoxy securing the drip pan supports in the engine room. Afterwards, I vacuumed and then water-rinsed the deep bilge so that I could prepare it for paint later on. I found that the garboard drain plug wasn't at the very bottom of the bilge and couldn't get all the water to drain, so I used the shop vac to suck out the water. After allowing it to air dry for a while, I dropped a towel in and pushed it around with a long grabby tool to soak up the remaining water.

With as much done on the electrical system as I could for now, while I awaited chainplate installation and bulkhead reinstallation and mast beam installation, and nothing further I could do on the engine installation, I found myself searching for small jobs on the punch list in order to keep going for a while. To that end, I knocked several items off the list during the remainder of the day.

I installed the stuffing box, now that the initial engine layout was complete, and installed the thin plywood covers over the slots in the edges of the cabin liner, covering the wire runs and hardware installations in the saloon and V-berth.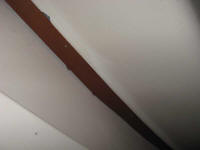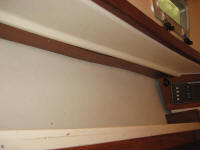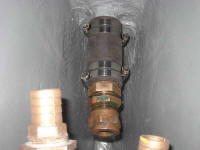 I installed a wire from the always-hot terminal of the house side of the battery switch up to the always-hot buss in the engine room, which would provide the power supply for the conductors thereunto attached.

Earlier, I'd purchased some round gasket material to replace that which had been in the opening hatches in the cabin, and now I installed that gasket in the grooves, taping it in place to hold it while the glue cured.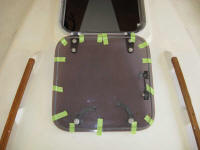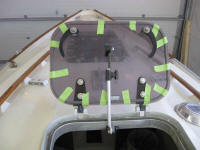 I sanded and varnished the swashboards again, which should be the last coat for now.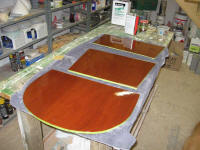 I installed six chocks back on the caprails, and also reinstalled some stainless steel half-oval chafe gear near the bow cleats. I installed some 10-32 pan head set screws to hold the stern pulpit securely in its bases.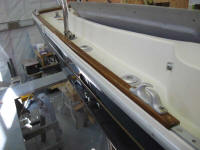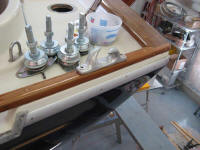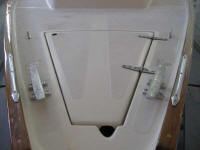 I had intended all week long to paint the engine room and bilge on Friday, but with some time on hand this afternoon, and the bilge dried out after the morning's wash down, I decided to proceed now. I masked off the wires at the forward end of the engine room to protect them from the paint, and then painted the depths of the bilge as best I could using a brush and roller on long sticks to reach around. Then, with a brush back to normal hand length, I painted out the upper portions of the engine room and around the engine foundations.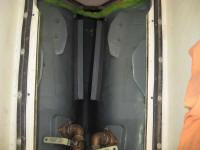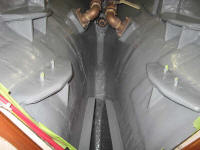 Total Time on This Job Today: 7.5 hours