Equinox Project | Saturday, March 6, 2009

First thing, I finished off the starboard electrical panel. All I needed to do was secure the completed, wired panel to the boat with screws. The black-colored screws I used on the port side were too short for this side because of some slight curvature in the fiberglass liner behind, so temporarily I used some longer ones until I could obtain the black screws I needed. The exposed, dangling wires to the left of the panel are leading to the location for the stereo, and will eventually be cleaned up; similarly, there are still small wooden panels to install along the outer edges of the cabin liner, which cover the wire chases along the edge of the hull and up to the panel locations.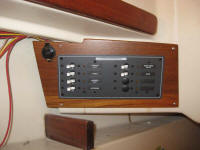 I spent the remainder of the day working on the engine foundations. First, I water-washed and sanded the epoxy from the tacking operation. Then, I wrapped some electrical tape and then masking tape around the exposed studs in the forward foundations to protect them, and took the further step of adding some short lengths of plastic tubing that I glued in place to keep fiberglass and epoxy away from these studs. After glassing, these tubes would pull right out.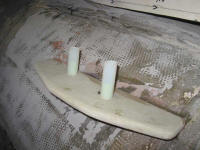 For each foundation, I patterned and cut three layers of heavy fiberglass for each side--top and bottom, and set these aside for later use. I cut and secured some plastic sheeting around the cockpit engine room hatch, the companionway hatch, and inside the boat on the settees to protect these areas from epoxy transfer during the upcoming processes.

Next, I installed large fillets around all the foundations, above and below, to not only increase the contact surface and improve the initial adhesion, but also to provide smooth, wide radii for the fiberglass to lay over.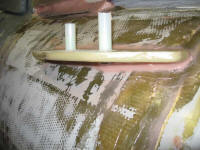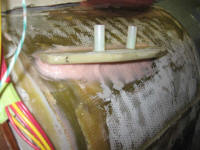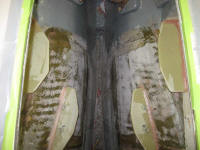 After giving the fillets about an hour to partially tack up, I went to work installing the fiberglass tabbing, 3 layers top and bottom at each location. I didn't worry if the edges of the material ended up running a little wild over the outer edges of the foundation bases, as I could cut and grind this off later. I ensured that the glass was well adhered to the curved contours above and below each section and rolled each area out carefully.

This pretty much wrapped up the day's work, other than a quick cleanup and organization of the shop at the end of the week.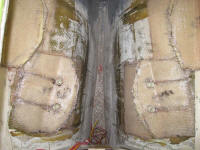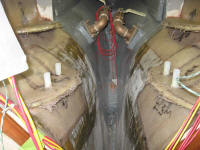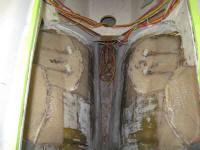 Total Time on This Job Today: 6.5 hours