Equinox Project | Wednesday, February 25, 2009

I spent the first part of the day laying out and installing (temporarily, at least) the various electric panels, shuffling the paper templates around and judging things by eye until I liked the layout. Then, I cut the holes required and drilled the screw holes as needed. Afterwards, I removed the panels and sent the wooden backers up to the varnish room for several coats of varnish before they'd be ready for final installation.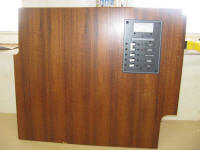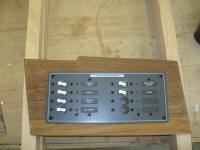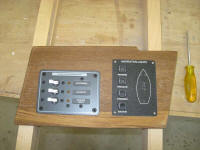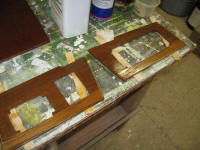 I continued with sundry electrical tasks with the materials I had on hand. The AC panel required a DC power feed in order to power the backlights on the panel and the meter, so I ran some 16 gauge wire for that. I also installed the 30 amp AC receptacle in the cabin side, where the old one had been, and attached the 3-conductor cable, leaving the long end for later attachment to the panel when time came for final installation.

I ran a pair of wires aft through the engine room to service a future solar panel, should one be installed at a later time. For now, I left these unsecured until the next time I had cause to install a series of wire mounts.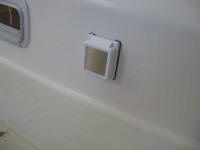 I installed a new AC battery charger beneath the AC panel, in the same location as original, and installed the AC wiring component of the charger, securing the wires to the proper circuit breaker on the new panel above. The DC wires leading to the batteries would be connected later, when I installed the plywood panel back in the head. I left the wire ties loose for now pending any additional wires that might follow the same path, but I allowed ample slack wire at the panel to allow the panel to be unscrewed and tipped down for access in the future, without needing to remove the entire plywood interior panel.

With a long-ish break away from the shop during the middle of the day for an appointment, this wrapped up the day's progress, along with the usual miscellany about which one cannot successfully write.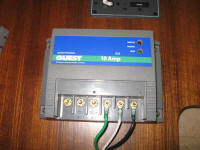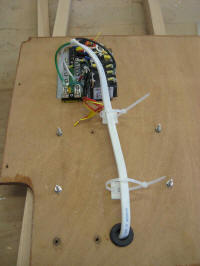 Total Time on This Job Today: 6.25 hours