Equinox Project | Tuesday, February 24, 2009

I spent most of the day on the electrical system. Before getting going, though, I decided to install the new solar vent, for no particular reason other than to get it off the bench.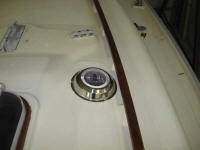 Afterwards, I made up a few of the final connections in the electrical system, beginning with the only fixtures I could permanently install at this point: the two lights and one fan in the V-berth. At each fixture, I made up the final connections using adhesive heat-shrink butt connectors, along with the usual numbered label on each wire. Then, I installed the fixtures and secured the loose wire on the opposite side of the bulkhead, using some split loom and rubber-lined clamps to hold it out of the way and out of sight as much as possible. I pulled the slack in the wires aft to extend the tails at the electrical panel locations, and tightened whatever wire ties I could up at the very forward ends of the runs on both sides, where no more wires would need be run.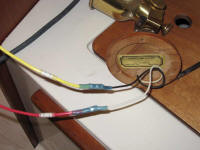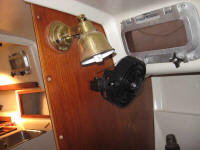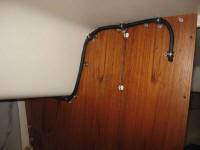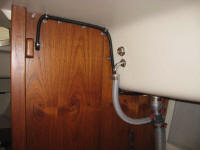 Similarly, I secured the two sets of wires running aft to the stern light and autopilot, and pulled the slack out as much as I could for now after tightening the wire ties inside the locker. I left plenty of excess wire at the ends for the final connections once I was ready to make those.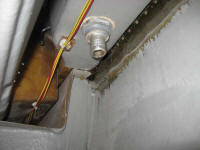 I pulled the depthsounder transducer cable back from the port settee locker and through the liner along its original course, which I'd marked with a messenger line during the initial dismantling, and secured new wires to the power supply cord for eventual connection to the panel when the time came. I also ran a pair of wires for the GPS, but for now I held off on securing any of these electronic wires to the bulkhead, so that I could tie them all up together once all wires, including the GPS antenna cable (on order) were in place to minimize the visible wire runs.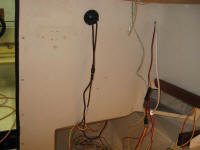 Assorted other electrical-related odds and ends brought me to the mid-afternoon, when the various electrical panels arrived. I spent some time unpacking everything and cutting out the panel templates to begin laying the cuts on the teak panels that I'd built. I left final decisions on the placement and cuts for a fresh start in the morning, and wrapped up the day's work by sanding and varnishing the rudder cheeks and swashboards again--satin varnish on the inside face of the swashboards this time, the final coat before I could turn them over and complete the exterior side.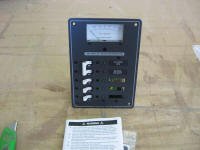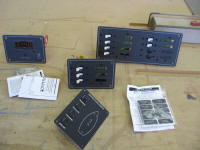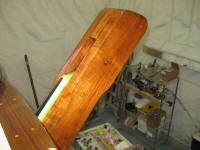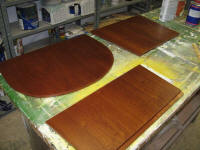 Total Time on This Job Today: 7.75 hours