Equinox Project | Wednesday, December 31, 2008

I unclamped the cabin sole and removed the masking tape from around the seam, and washed and lightly sanded the epoxy in the seam. Even though the fiberglass cabin sub-sole would not be visible once I reinstalled the cosmetic teak plywood veneer later in the project, I planned to address the repaired sole's appearance in due course; for now, I left it alone. It was nice having a real cabin sole underfoot after several weeks of treading through the bilge.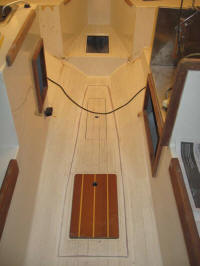 I cleaned up and sanded the insides of the patches over the head through hulls, inside the bow locker, completing that portion of the project. The first coat of fairing compound had cured overnight, so I washed and sanded the exterior as well. The two patches were almost fair, but there were a few small low spots, so I solvent-washed and applied a second coat of fairing compound.

I removed the four cabinet doors from their frames so that I could refinish them on the bench, and then continued sanding the interior teak trim where I left off yesterday, and during the course of the day completed sanding all areas, using 120 and 220 grits to prepare the wood. Afterwards. I vacuumed up the dust and cleaned the entire cabin, then spent the rest of the day applying masking tape around all the trim in preparation for varnish.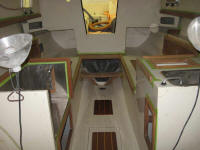 At the end of the day, I lightly block sanded the bulkheads and plywood pieces that I varnished yesterday, and applied another coat of varnish.

Total Time on This Job Today: 7 hours