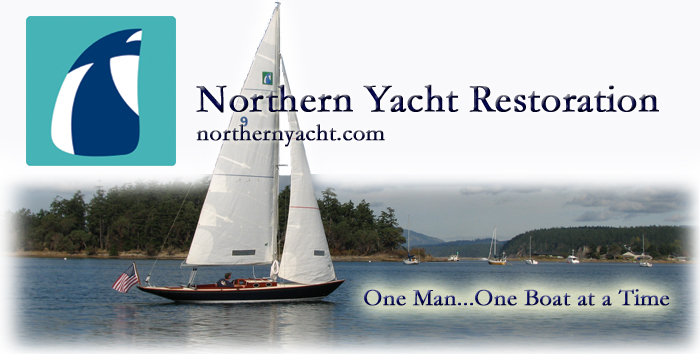 110 Cookson Lane | Whitefield, ME 04353 | 207-232-7600 | tim@lackeysailing.com
Home
| Contact Lackey Sailing |
Conversion Projects
|
Project Logs
|
Tim's Projects
|
Flotsam



Ensign #1212

| Monday, May 12, 2014

Now that the major surface prep work was done on the decks, I moved on to the main bulkhead and interior. I thought it'd be more fun to sand the interior with the bulkhead out of the way, so first thing I cut out the old bulkhead sections and removed them. As expected, the bases of the plywood bulkheads were in bad shape.

With the old bulkhead out of the way, I turned to the interior, beginning with grinding smooth the old bulkhead's footprint and removing remaining old tabbing, adhesive, paint, and other materials from the bonding area where the new bulkhead would eventually go. Then, I sanded the entire interior, overhead, and so forth to remove old paint as needed and prepare the surfaces for new coatings and finishing.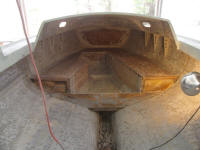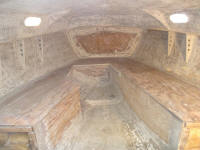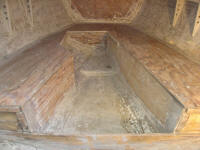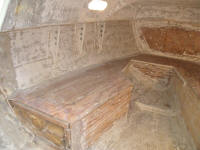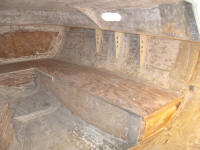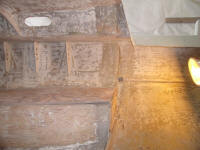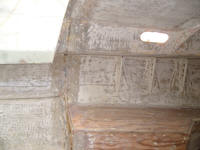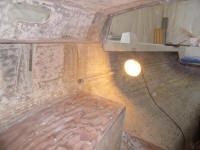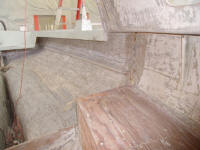 Working off the paper templates I made earlier of the old bulkhead, I transferred the shapes accordingly to a sheet of cardboard, creating basic templates of the two bulkhead sections. Up in the boat, I test-fit the templates, which generally fit well except at the top edge beneath the cabin trunk; this area had been difficult to template because of the overhanging cabin trunk edge, and the lumpy, bumpy, messy tabbing that had secured the original bulkhead.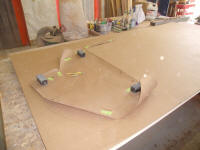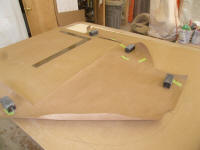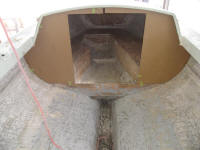 To get a better shape at the top for the next iteration of template, I used additional cardboard to scribe the shape, and marked the add-on piece where it overlapped the two side sections for later reference. I also determined a centerline for various references in fine-tuning the doorway opening and side-to-side alignment, which would all come into play when I made the next template from 1/4" plywood. I'd continue with that next time.
Note: only the top edge of the add-on center section is relevant to the layout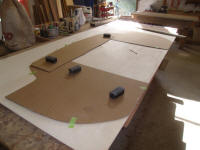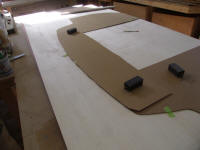 Total Time Billed on This Job Today: 8 Hours