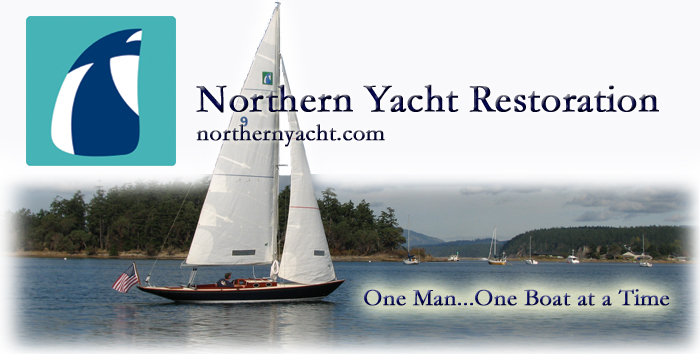 110 Cookson Lane | Whitefield, ME 04353 | 207-232-7600 | tim@lackeysailing.com
Home
| Contact Lackey Sailing |
Conversion Projects
|
Project Logs
|
Tim's Projects
|
Flotsam



Ensign #1212

| Thursday, May 8, 2014

The cockpit seat slats and trim pieces were largely free from varnish and heavily weathered on their top surfaces, but still featured varnish--often thick and drippy--on their edges and bottom surfaces. All of these piecess--plus the support beams and legs--would require stripping and sanding before new varnish work could begin.

The after ends of four of the starboard seat slats had rotted from beneath, and would require replacement with new wood. I set these planks aside for later use as patterns.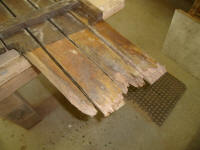 I used a carbide scraper and heat gun to remove the varnish from the pieces as needed, on all four sides. In this way, I worked through the pile of seat slats, and adjacent trim pieces.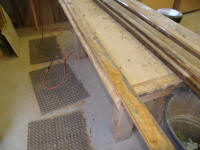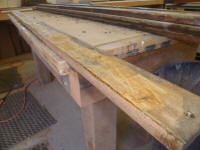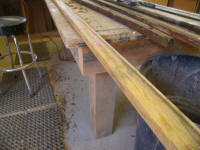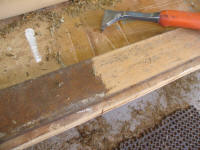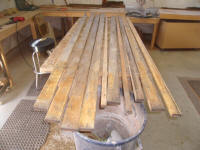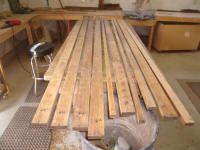 The heavily weathered bare wood on the tops of many of the planks , in conjunction with the cleaner, brighter wood found in those areas where there had still been vestiges of old varnish for protection, provided, for now, an inconsistent appearance, and I thought that cleaning or brightening the wood with oxalic acid might be worthwhile to brighten the wood more than sanding alone ever could.

As a trial, I used a smaller piece of trim that I'd sanded clean with 80 grit paper, and cleaned it with an oxalic acid (wood bleach) solution. This seemed to have a positive effect on the wood, so I made plans to proceed with all the pieces later.

Left to right: Sanded; cleaned with oxalic acid and dried; dampened with spirits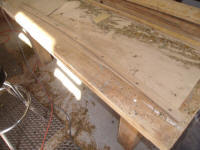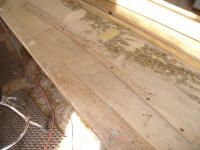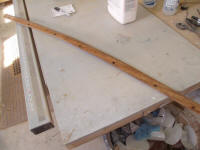 Continuing, I began sanding the seat slats with 80 grit paper to remove any remaining finish and clean and smooth the surfaces. On the most heavily-weathered portions of the old wood, sanding brightened the wood considerably, but I hoped that the wood bleach would take it a bit further, as well as help blend the weathered areas with those that had been more protected. I planned to sand all the pieces with 80 grit first, after which I'd clean them before continuing through the grits and final preparations for refinishing. I made it through about half the pile before running out of time for now.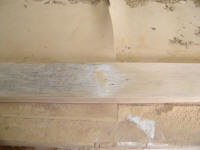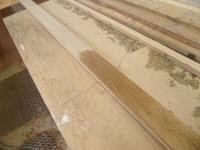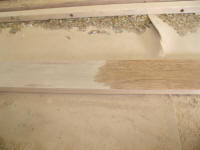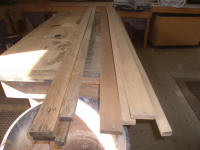 Total Time Billed on This Job Today: 7 Hours