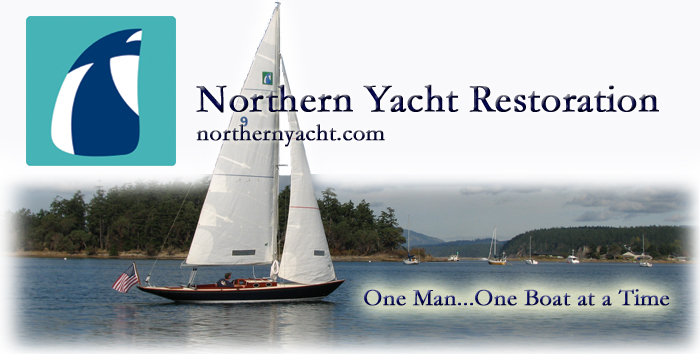 110 Cookson Lane | Whitefield, ME 04353 | 207-232-7600 | tim@lackeysailing.com
Home
| Contact Lackey Sailing |
Conversion Projects
|
Project Logs
|
Tim's Projects
|
Flotsam



Ensign #1212

| Tuesday, June 10, 2014

Picking up where I left off, I sanded the coamings to remove remaining finish, smooth the surfaces, and start evening out the colors and textures of the old wood. The coamings were in fairly good condition, though weathered and with several open checks and other small issues to deal with.

To address the coaming return blocks, which were loose and sloppy in their original screw holes and had other minor issues, I removed the bungs covering the fixing screws, and removed the coaming blocks. After cleaning up the bonding areas, I reinstalled the blocks with an epoxy mixture made with mahogany dust for color, and new screws one size larger to grip the wood better than the originals. Meanwhile, I filled various gaps and checks with the epoxy, none of which gaps were of structural significance.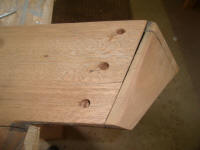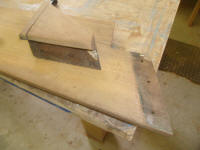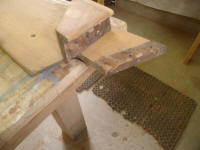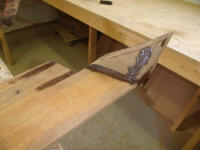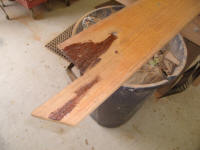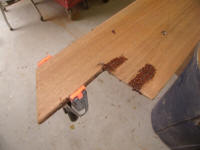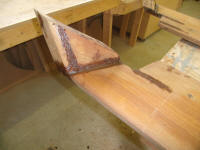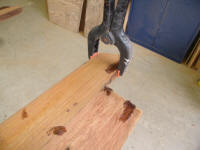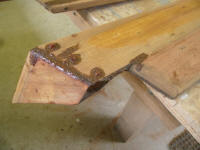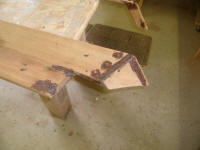 I prepared a wood beach solution with hot water and oxalic acid and cleaned the seat slats and other trim with the mixture, scrubbing with an abrasive pad. I didn't expect miracles from the task, but hoped that this process, along with additional sanding, would help even out the various colors--weathered and otherwise--of the wood for a more consistent appearance once refinished. As I washed and rinsed each piece, I set them indoors to dry.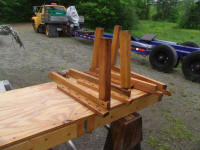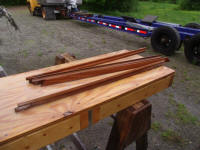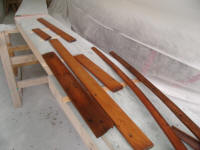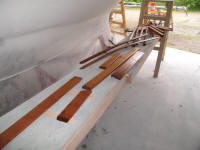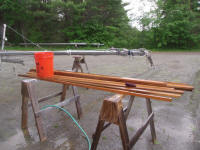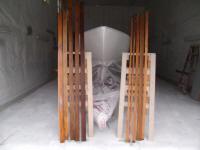 Later, once most of the trim had dried sufficiently, I sanded again, this time with 120 - 220 grit paper to make final preparations for new varnish. The seat slats were still damp at one end, so I left those for another time.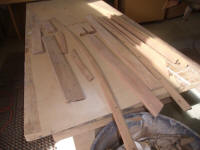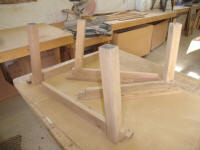 Total Time Billed on This Job Today: 6.5 Hours