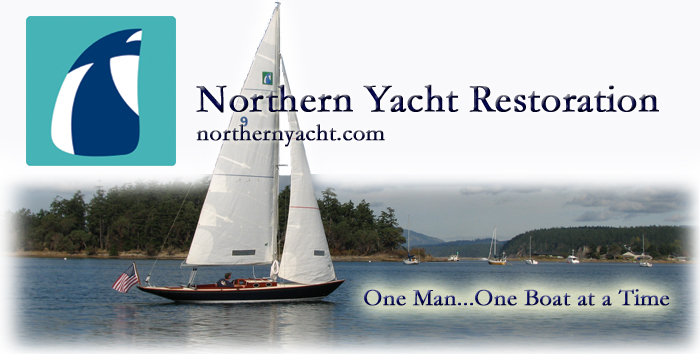 110 Cookson Lane | Whitefield, ME 04353 | 207-232-7600 | tim@lackeysailing.com
Home
| Contact Lackey Sailing |
Conversion Projects
|
Project Logs
|
Tim's Projects
|
Flotsam



Ensign #1212

| Friday, July 18, 2014

One of the last large-ish items on the agenda was painting the cabin and cockpit areas. I'd long ago done all the required prep in these spaces, so to get ready for primer my chore list was relatively short. I began by vacuuming and solvent-washing both areas to remove dust and other contaminants. Once the solvent had evaporated, I masked as needed, mainly on the main cabin bulkhead (inside and out) to demark between the varnished fields and the fiberglass-tabbed edges.

In the cockpit, I masked along some layout lines I'd made at the edges of the teak cockpit sole, allowing a little extra room near the forward several sets of cross beams (which landing points I'd also marked on the hull earlier) for some light tabbing that would secure these beams--and the cockpit sole itself--to the boat.

Preparations complete, I applied a coat of one-part primer to the entire interior, and to the cockpit above the masked line. I'd paint the hull areas below the line (which would be below the cockpit sole) with another product later. The primer made a positive visual impact on the boat.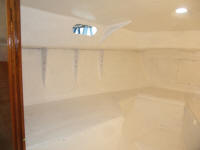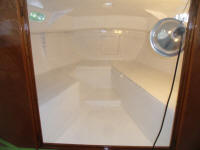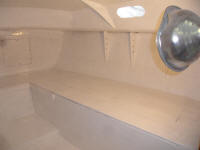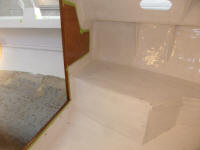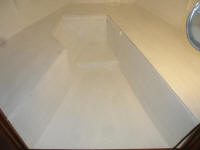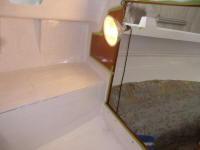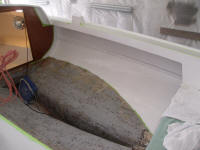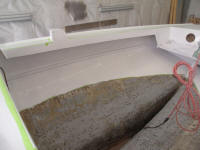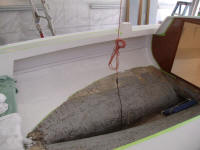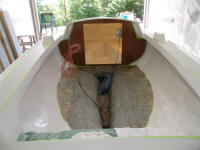 Next, I turned to the nonskid once more, and applied a second coat of the light gray product after double-checking the cured color against my sample. Later, when the paint had cured enough, I removed the masking tape.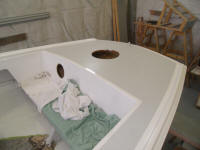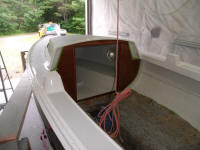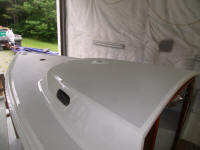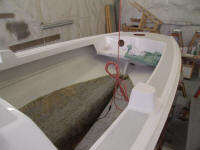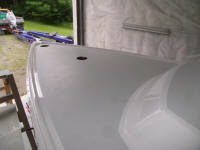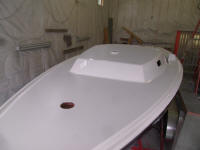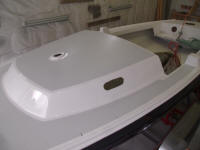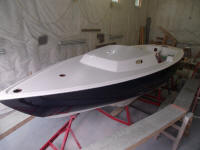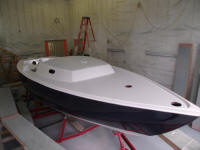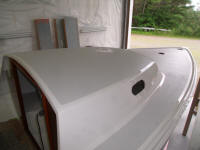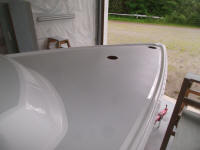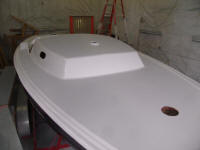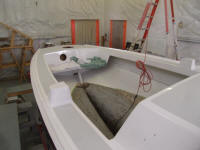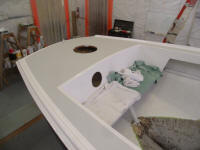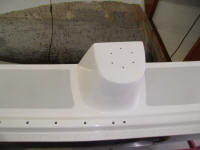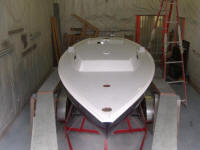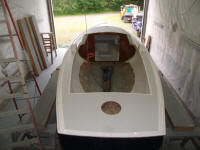 In the woodshop, I continued varnish work, and applied a second coat to all four new starboard seat slats--the two "original new" ones plus the two "new new" ones.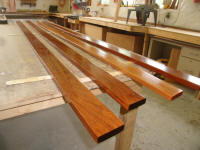 The fifth starboard seat slat--the only one of the boat's original slats on this side to be reusable--needed one more coat of varnish, as I'd noticed that the "final" coat I'd applied earlier had been marred by a big bug in the wet finish. Meanwhile, I applied a seventh coat to the outboard side of the coamings, and another coat to the new tiller.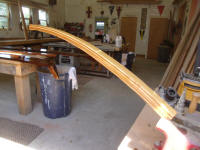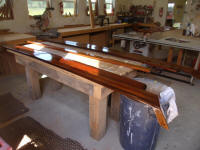 Total Time Billed on This Job Today: 5.75 Hours