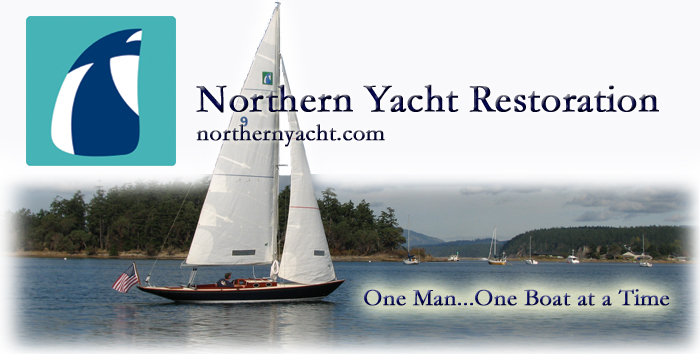 110 Cookson Lane | Whitefield, ME 04353 | 207-232-7600 | tim@lackeysailing.com
Home
| Contact Lackey Sailing |
Conversion Projects
|
Project Logs
|
Tim's Projects
|
Flotsam



Ensign #1212

| Thursday, July 17, 2014

The spray painting was done, so my first task was to remove all the various masking and plastic from the boat. I'd be painting the bottom a little later on, after a few final tasks on the bottom.

I set up staging around the boat at deck height, and masked around the field areas for the nonskid paint, which I'd be applying next.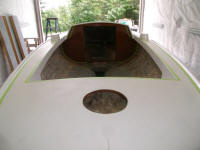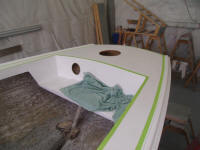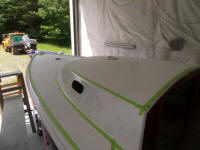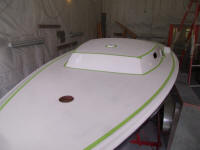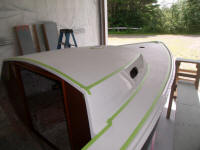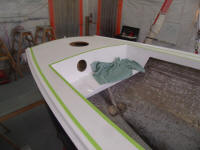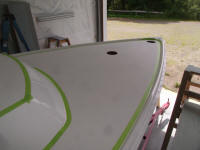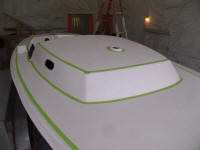 The owner requested a light shade of gray for the nonskid, similar to the whisper gray in the Alexseal line. Using white and gray Interdeck, I mixed a custom shade to match the desired color.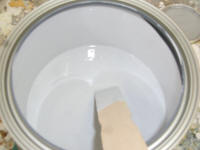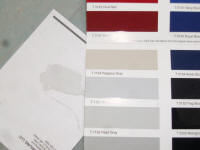 Next, I applied the first of two coats of the nonskid paint to the decks. I thought I'd taken several more pictures than these, but a camera card error appeared to have failed some of them.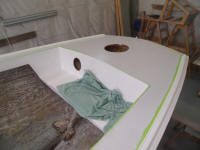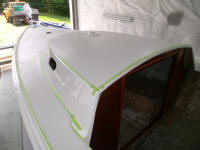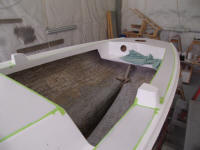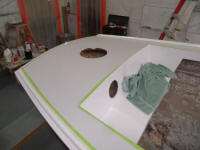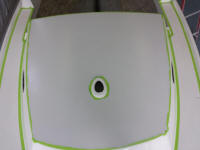 With the first coat of nonskid in place, I turned to the starboard cockpit seat once more. With some new mahogany on hand, I spent a couple hours milling two new slats to replace the ones I'd cut too short originally. This time, I was careful to lay things out properly and ensure that the new slats would be the proper length. I laid out all five boards, including the outboard most one (now completely varnished) to properly cut the tail ends to the correct shape and profile. Because of my error, there was no charge for the new material or time expended in re-making the slats properly.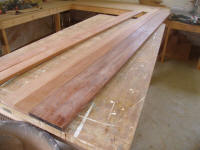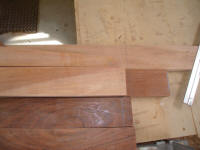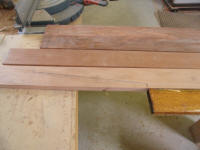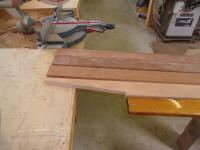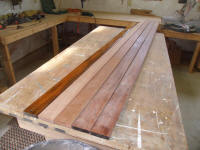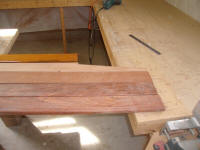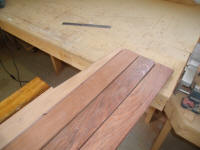 After cutting the blanks to proper length, thickness, and width, I sanded them smooth through 220 grit and, after cleaning up, applied a sealer coat of varnish to all sides.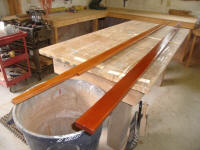 Total Time Billed on This Job Today: 5 Hours (plus 2.25 hours not billed)