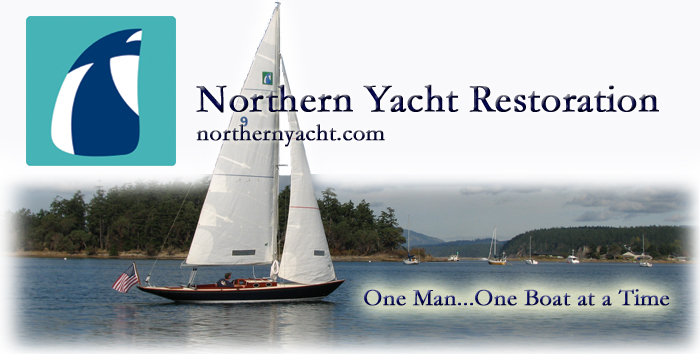 110 Cookson Lane | Whitefield, ME 04353 | 207-232-7600 | tim@lackeysailing.com
Home
| Contact Lackey Sailing |
Conversion Projects
|
Project Logs
|
Tim's Projects
|
Flotsam



Ensign #1212

| Tuesday, July 15, 2014

The fresh hull paint required a full day of cure time before I could anticipate overtaping for the boottop, so once I'd removed the masking tape below the new topsides, there was little else I could do on the boat itself for the moment.

During an earlier work day, before I'd covered up the boat, I checked the fit of the old cabin doors in the new opening to ensure that they fit and that I could use them as patterns for new doors.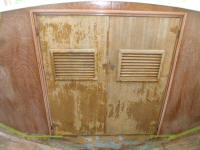 Using these as patterns, I prepared a new set of doors using the remainder of the plywood sheet from which I'd cut the new bulkhead. Back then, I'd marked the offcut so that I could cut the doors from sections that had been adjacent to the bulkhead sections, so that the doors would have a consistent grain pattern with the bulkhead. Preparing the new doors was a simple, if multi-step, process of squaring the panels, rough-cutting to slightly oversized rectangular blanks, then finally trimming to the exact size using the old doors to set up the saw correctly.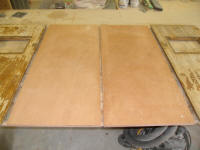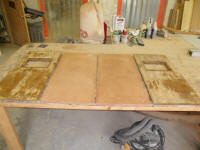 I ordered a pair of mahogany louvered vents for the doors to replicate the originals, but would wait till they arrived before I cut the holes in the new panels. Meanwhile, after some light finish-sanding, I got started on the varnish work for the doors, applying a sealer coat of thinned varnish to all sides.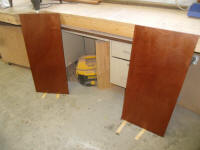 I continued varnish work on other cockpit trim and seating pieces, bringing the current coat totals to seven for the seat slats, six for the outboard sides of the cockpit coamings, and eight for the smaller cockpit trim pieces.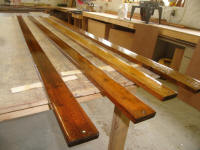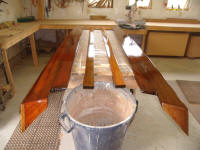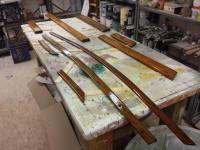 The new laminated tiller I purchased for the boat came with a satin pre-finish, but I had to trim down the butt end in order to fit it in the tiller strap, which removed the finish in that area. I sanded the entire tiller, and applied the first of several coats of gloss varnish to the piece.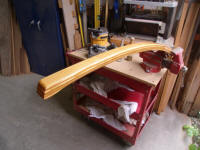 Finally, I set up the cockpit sole grate on some sawhorses and installed teak bungs in all the fastener holes. I'd trim them flush and continue final cleanup work on the sole later.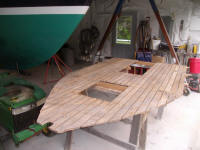 Total Time Billed on This Job Today: 4.75 Hours