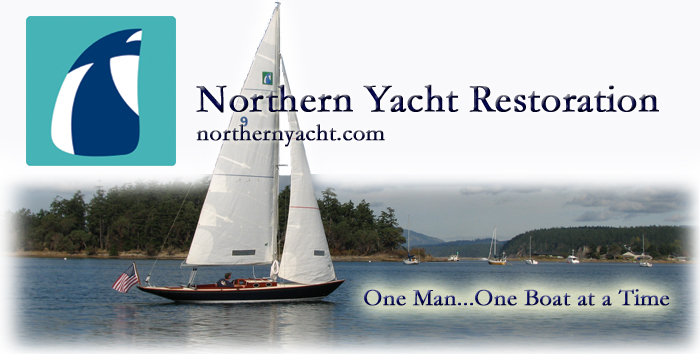 110 Cookson Lane | Whitefield, ME 04353 | 207-232-7600 | tim@lackeysailing.com
Home
| Contact Lackey Sailing |
Conversion Projects
|
Project Logs
|
Tim's Projects
|
Flotsam



Ensign #1212

| Friday, August 8, 2014

One of the last hardware items was the two fixed ports in the cabin. For each side, I began by cutting a new lens from 1/4" clear acrylic, using the originals as patterns. After cleaning up the frames as needed, I installed the ports with butyl tape sealant--fortunately a straightforward task even working alone in this case. Afterwards, I cleaned up the excess butyl, and while I was in the area I cleaned off the now-cured sealant squeezeout from the chainplates.

The owner planned a roller furler for the headstay, and needed fairleads down the starboard side for the furling line, leading aft to the stern cleat. Near the stem, I began with a deck-mounted swivel block to create a good and flexible lead directly from the furling drum. Running aft, I located bullseye fairleads every so often as I deemed necessary to keep the furling line clear and fair. At each location, I masked around the hardware and overbored the fastener hole locations with a 3/8" bit to omit the core from the deck (everywhere but two locations outboard of the cockpit, where the deck was solid with no core). Once I'd cleaned up, I filled the bored holes with thickened epoxy, leaving it to cure till later.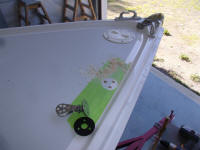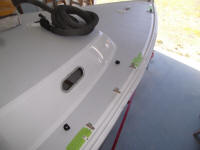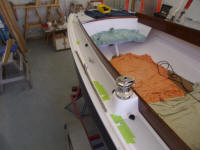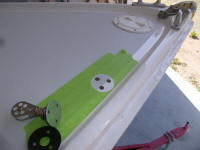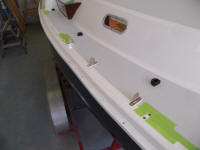 Once more, I varnished the little trim piece for the two aft sides of the cockpit.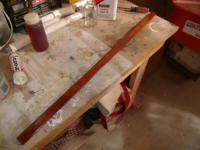 I removed the staging from around the boat, as I no longer needed it, and masked off at the top edge of the bottom to prepare for bottom paint. Then, I applied green ablative antifouling paint to the bottom.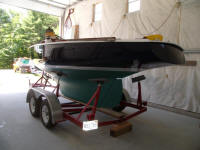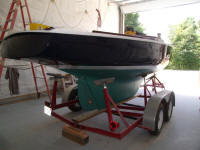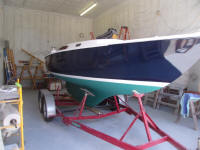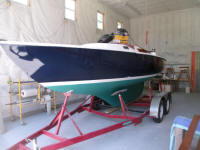 Starting with the port cockpit bench, with all its original pieces, I reassembled the benches down in the shop. It would be easier to do so there than in the boat.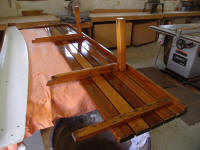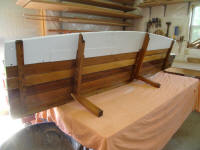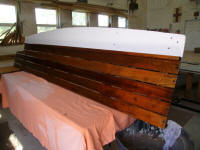 The starboard bench would be more complicated, since with four new planks (out of five total), the spacing and layout wasn't as clear as on the port side. So to begin, I assembled the outboard shelf, the four cross braces (two of which incorporated the legs), and the outboardmost plank (#5), which aligned the support cleats appropriately for the remaining planks. This also gave me enough of a structure to install the bench (or at least its bones) in the boat as is, and then lay out and install the remaining four new planks in situ to ensure proper positioning. But that would have to wait till next time.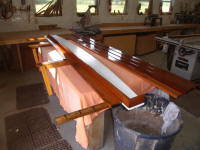 Total Time Billed on This Job Today: 6 Hours