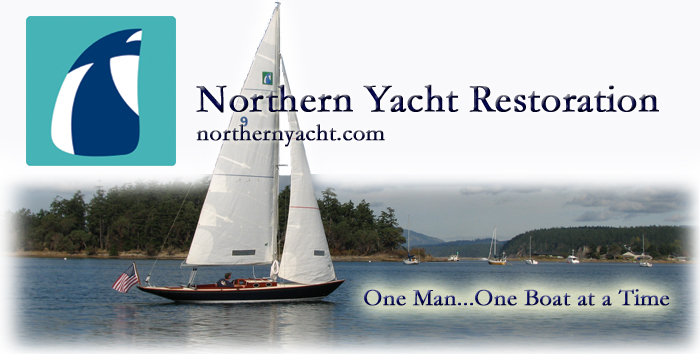 110 Cookson Lane | Whitefield, ME 04353 | 207-232-7600 | tim@lackeysailing.com
Home
| Contact Lackey Sailing |
Conversion Projects
|
Project Logs
|
Tim's Projects
|
Flotsam



Ensign #1212

| Tuesday, August 5, 2014

With things starting to wind down, I started the day with a focus on a few more time-sensitive items, beginning with the main cabin bulkhead and doors. Before continuing with the varnish work on the doors, I thought it'd be a good time to actually install the hinges and hang the doors with the original lift-off hinges.

With the new trim around the door opening, I had to cut away some of the wood to allow room for the original hinges. The doors themselves were a bit thicker than the original ones, so to accommodate this I added slim wooden spacers beneath the trim-mounted hinges to bring them out flush with the door surfaces. With these initial steps complete, I could mark and drill the doors for the hinges there.

With that, I could remove the doors and send them back to the finishing room for more varnish buildup, which I did a bit later in the day; with five good coats on the inside surfaces, I worked now on the outside faces of the doors, now up to the 4th coat there.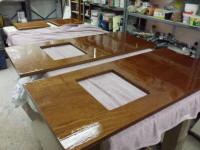 The main cabin bulkhead required an additional coat of varnish on each side; I'd left this (hopefully) final coat till later in the process for a few reasons, including getting the paint work done, keeping an overall schedule moving along, and avoiding undue damage to the brightwork during other steps along the way. Now, I masked off around the edges as needed, and lightly sanded both sides of the bulkhead and the door trim to prepare for varnish, which would be the last task of the day.

Meanwhile, I worked on hardware installation, this time with the new genoa sheet winches (Andersen 12ST) and sheet cleats on the sidedecks.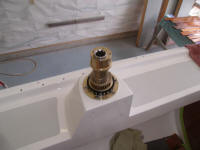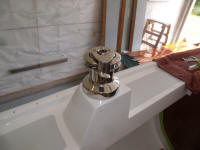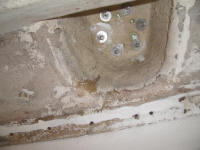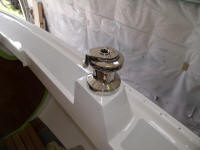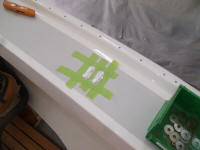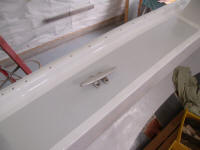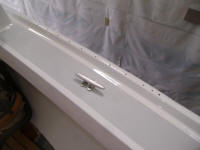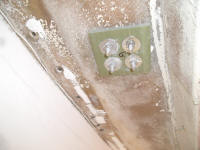 As I went through the hardware during the installation process over the past days, I'd discovered some broken trim pieces from the aft end of the cockpit; they'd broken during removal long ago, and I'd bagged and stored the pieces for safekeeping and reproduction later. Well, later was now, so from some scrap mahogany I milled a matching profile on a length of wood long enough to do both required pieces, sanded it smooth, and applied a sealer coat of varnish.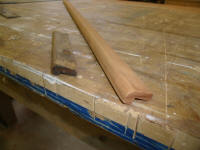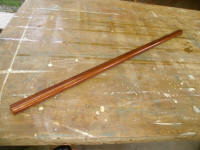 Finally, after final cleanup and preparations, I applied a coat of varnish to both sides of the main cabin bulkhead. I didn't have my camera on the inside so no pictures from there at this time.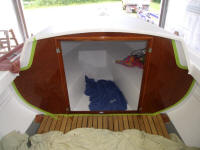 Total Time Billed on This Job Today: 6.75 Hours