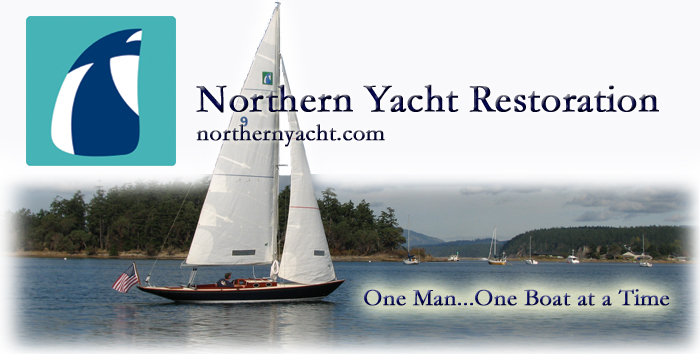 110 Cookson Lane | Whitefield, ME 04353 | 207-232-7600 | tim@lackeysailing.com
Home
| Contact Lackey Sailing |
Conversion Projects
|
Project Logs
|
Tim's Projects
|
Flotsam



Ensign #1212

| Monday, April 28, 2014

To smooth the various areas where I'd applied epoxy filler on the hull, I sanded the topsides all over with 80 grit paper on a vibrating finishing sander. This step brought the topsides close to their final level of finish before high-build primer, though additional fairing filler would be required in a few areas first.

After cleaning up as needed, I applied gray fine fairing filler to a few areas of the hull, including an area on the starboard quarter where I'd ground out some damaged gelcoat, plus the through hull patches on the bottom, rudder shoe, and other areas.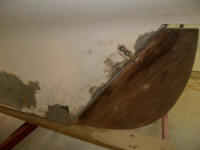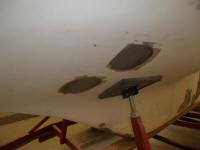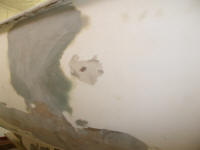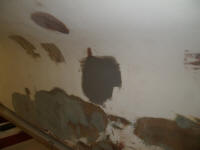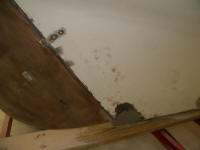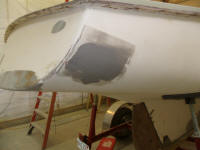 Before I went too far, I decided to check the level of the boat in both directions, using existing structures as my reference points. This would later become more important for such tasks as new bulkhead installation and restriking the waterline. The boat turned out to be suitably level side to side, and I made adjustments to the trailer jack as needed to level her fore and aft.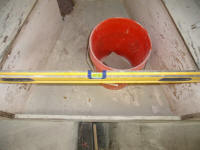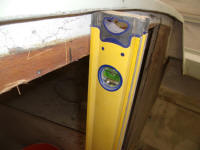 I set up some staging around the bow and stern, then continued the deck sanding process in those areas, removing the molded nonskid pattern and sanding through the grits to begin the surface preparation. In several areas, mainly along the channels near the molded toerail, the old gelcoat was in poor condition, requiring additional sanding to remove the suspect material. There'd be additional sanding to come, including edge, corner, and detail sanding over the entire area.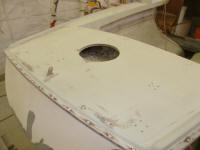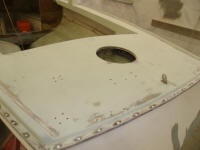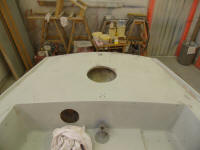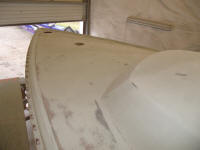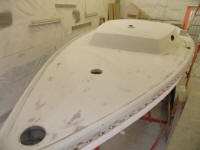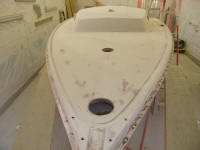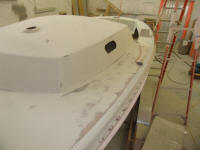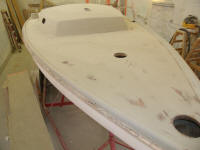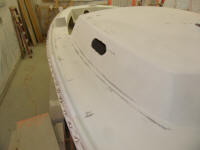 The plan was to reinstall the original hardware, so to ensure that I could easily relocate it later, I made some quick patterns of the hardware holes on the stern deck and coachroof that I could use as a guide if needed. I planned to enlarge and fill all the existing holes as part of the surface preparations, and the patterns would allow me to reinstall the hardware in the same locations down the road while giving the option of changing things should it become desirable.

I didn't waste time on fanciness--just enough reference marks and basic alignment cues to reposition the patterns later.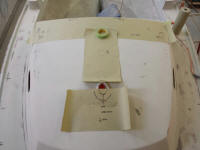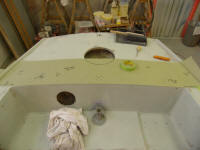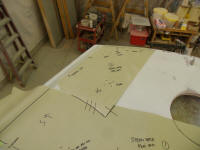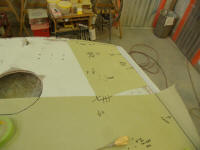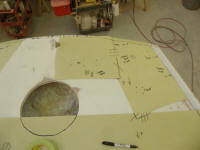 Next, I drilled out all the hardware holes with a 1/2" Forstner bit, removing the core from within. Most of the spoils appeared dry and clean, but in a few areas there was some discoloration, and I'd look more closely at all the deck areas in the immediate future. Sounding and other levels of inspection so far hadn't indicated signs of major internal core issues, but before proceeding I'd want to determine whether any repairs were required.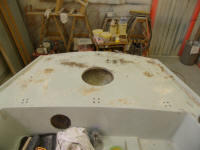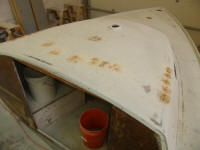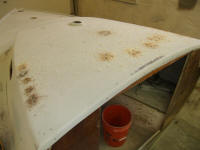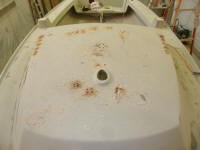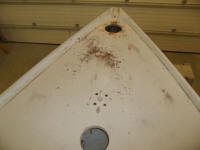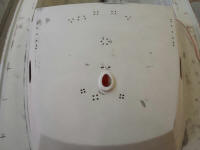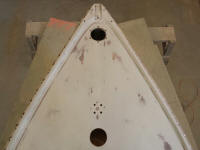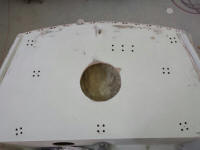 Total Time Billed on This Job Today: 7.25 Hours