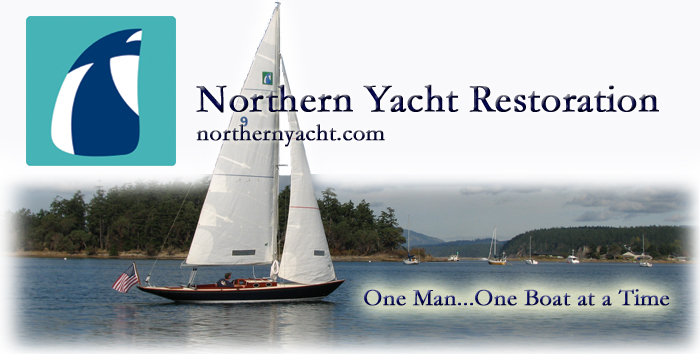 110 Cookson Lane | Whitefield, ME 04353 | 207-232-7600 | tim@lackeysailing.com
Home
| Contact Lackey Sailing |
Conversion Projects
|
Project Logs
|
Tim's Projects
|
Flotsam



Ensign #1212

| Monday, April 21, 2014

Now that I had the boat mostly stripped of hardware and other removable bits, other than a few things that I couldn't reach at the moment but would eventually remove, I turned to exterior surface preparations, beginning with stripping the bottom. Before beginning the job, I made a series of measurements from fixed points to determine the existing location of the stem and stern ends of the boottop and waterline (defined by me for my purposes as the top edge of the bottom paint). This would give me a baseline measurement for later recreation of new lines.

At the bow, I measured along the stem, starting from below the stem casting; at the stern, I measured from the transom corner along the centerline.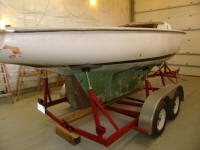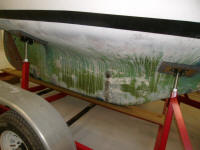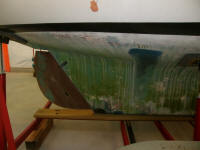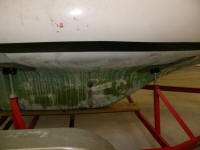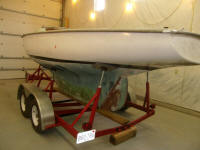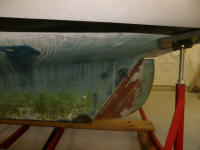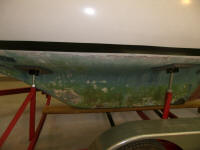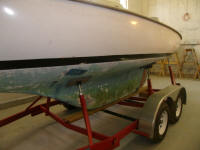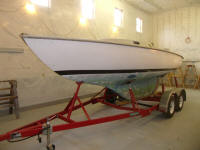 Over the course of the day, I removed the bottom paint and boottop, first scraping the bulk of the paint then sanding the whole area twice, with progressively finer paper, to remove the final vestiges of old paint. Once I'd completed the whole bottom, I lowered the stands as needed and stripped beneath the pads all around.

The original gelcoat was in generally good condition, with various patches of fairing compound and/or old repairs, particularly on the starboard side, that appeared generally sound. The mahogany rudder and its bronze components were in great shape.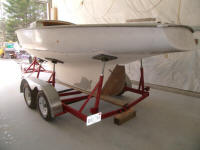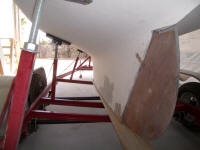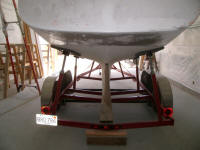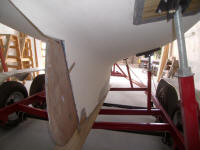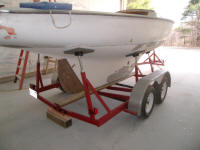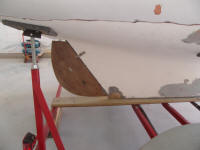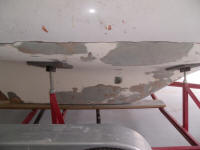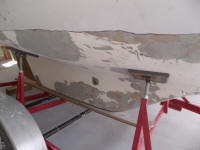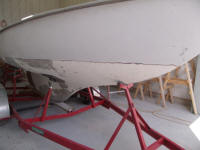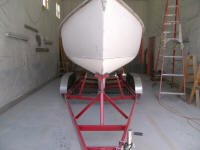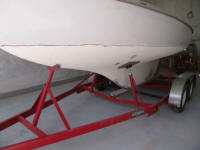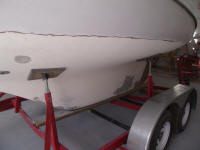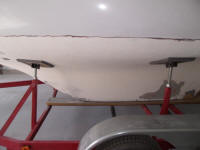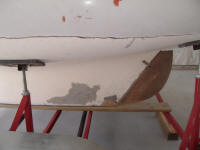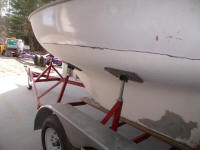 On the port bow, in an area where it appeared the boat had rested firmly in an old cradle, the gelcoat was loose and flaky, and I sanded it mostly away; I'd do additional work here in the near future.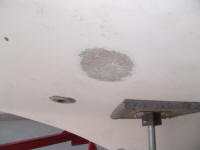 Total Time Billed on This Job Today: 7 Hours