1975 Dufour 27 Refit | Tuesday, October 21, 2008

I completed another round of sanding and re-filling on the deck areas as required, as well as on the transom repairs I'd been working on. The Alexseal fairing compound I'd applied over the cockpit patches (compass and instrument holes) was not yet cured sufficiently to sand; it tends to often require more than 24 hours for a fully sandable cure--so I ignored those areas and concentrated only on the two newer deck repairs that were underway: one on the foredeck and one on the starboard cockpit seat. These required one additional thin coat of fairing material to fill low spots, so I applied Alexseal fairing filler as required, as well as to the transom repairs. This ought to be the final round before primer, though I expected that high-build primer would highlight a few minor areas requiring some additional fine filling.

Next, I installed 2 layers of 1708 biaxial cloth over the new core on the cockpit locker lids and anchor well lid. First, I gave things a quick sanding to remove any sharp edges and to bevel the edges of the old laminate flush with the new core as required. After cleaning up, I applied some thickened epoxy filler to a couple small voids and to some areas where I couldn't sand the adjacent laminate flush, and then installed the two layers of material over the top.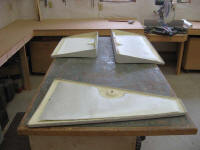 Without anything further to do on the boat for the moment, I took some time to sort through the deck hardware and fasteners that I'd removed before the project, noting the various fastener sizes and making a list of materials to order to replace the old fasteners as required.

I was pleased to receive, late in the day, virtually all the paint and priming materials that I'd ordered and which I needed for the job, particularly a back-ordered container of required reducer for the high-build primer. This delivery meant that I'd be able to say on track, schedule-wise, for high-build primer application early next week.

Total Billable Time on This Job Today: 6.5 hours