1975 Dufour 27 Refit | Monday, November 17, 2008

I began by removing all the tape, paper, and plastic from the boat, exposing for the first time the entire boat in her new clothes.

Next, I spent a good portion of the day masking for the nonskid areas on deck, following the painted lines to recreate the original patterns.

When the masking was complete, I cleaned the decks and applied the first coat of light gray nonskid paint.

With a little time left in the day, I collected and laid out all the deck hardware that I'd be reinstalling soon.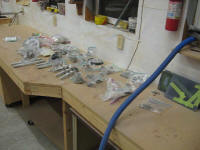 Total Billable Time on This Job Today: 8 hours