Engine Choice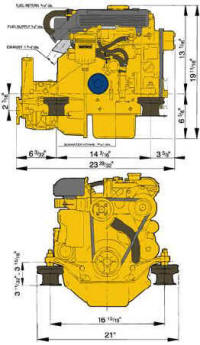 At the beginning of the project planning stage, I hemmed and hawed about whether it even made sense to install a diesel engine. In the end, I decided that the diesel was the premium, high-end choice, and proceeded with plans.

After some research into various engine manufacturers and options, I settled on a Vetus Mitsubishi diesel from a company in MA that offered unbeatable pricing. As the economics of the boat construction were important, I felt that it behooved me to buy a new diesel for as low a price as possible without sacrificing usability or quality. Initially, I thought that the Vetus 11 HP engine would be the correct choice for this day boat, but when I inquired I was talked into the larger 16HP version (same block, same dimensions, same weight), mostly for convenience and economics: the 16 was in stock, and its price was only $200 more than the 11, which would have needed to be ordered and would have cost more than the original published price. It was a no-brainer to go for the 16, particularly with free shipping.

After ordering the engine in early February 2005, I settled in to wait for its delivery three weeks' hence. If I'd been in a serious rush, I would have made other arrangements, but it was just as easy to wait for three weeks as not, so I felt that would be fine.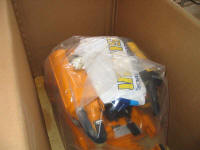 After two separate delays that left me frustrated first and, frankly, infuriated the second time, the engine finally arrived at the shop on March 2, coming in a massive corrugated cardboard box built over a wooden pallet. Despite my eagerness to see the engine, I left it inside the box and wrapped in its protective plastic for the time being, to protect it from dust and damage until I was truly ready to attack its installation.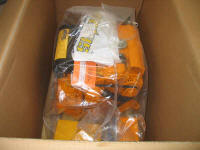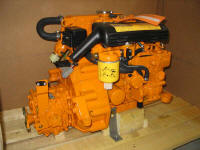 Later, as I began construction of my engine foundations, I removed part of the box and pulled off the plastic for a better look at the engine. I thought it was a good-looking engine overall, and spent some time going over the locations of various features.

The engine specifications are as follows: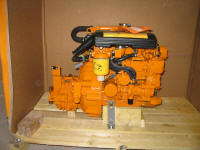 Model: Vetus M2.06, based on the Mitsubishi L2E-61DM
Type: 4-stroke Diesel engine, inline 2 cylinder block
Weight: 216 lb.
Rated output maximum: 16hp@3600 RPM (flywheel)
Rated output maximum: 15.8hp@3600 RPM (prop shaft)
Torque: 21.6 ft.lb@3600 RPM
Fuel Consumption: 6.9oz/hp/hour @2500 RPM