Circe | Thursday, January 28, 2010

I began the day with the companionway steps. I rounded the edges of and sanded the six step-support brackets, after which I secured them in place with glue and screws. I set the assembly aside to dry.

I spent much of the rest of the day on the various steps involved in fitting and installing a band of cherry trim across the seam between the molded overhead liner in the aft part of the saloon and the forward, un-lined section. This would probably prove to be the most time-consuming piece of trim on the boat. I'd determined earlier that it was fruitless to continue attempting to fit a pre-bent, laminated blank that I'd made up, so instead I milled 3" wide by 1/4" thick strips of cherry to bend across the opening to create a simple, flat transition.

For the main piece across the overhead, I first made a cardboard pattern to help me get the length right, and then cut and fit a piece of the cherry accordingly. After a few test-fits, the piece fit snugly, so I sanded it smooth through 220 grit and eased the edges with a small round profile.

After taping up the piece to protect it from epoxy, I secured it in place with thickened epoxy adhesive, pressing the trim into the proper position with clamps and braces led to the settee below. The epoxy would not only secure the trim, but would also make up for some of the variation in the contour of the overhead, particularly on the forward side.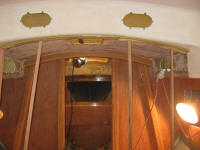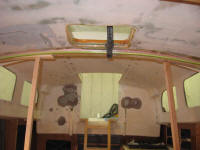 With the top section glued and clamped in place, I continued with the four additional pieces--two on each side--required to complete the trim. These pieces were easier to fit and install than the top piece, and continued the cherry band down the vertical sides of the cabin trunk and then out to the hull beneath the sidedecks, hiding the entire raw edge of the liner transition.

As before, I secured these pieces with epoxy adhesive and bracing, as well as small dabs of hot glue to help hold them temporarily while the epoxy cured--particularly on the short vertical sections. I let the vertical pieces run long over the exposed end of the underdeck trim to allow for later trimming and shaping once the glue was cured.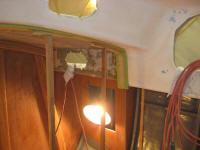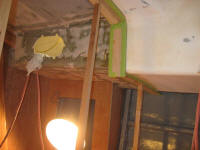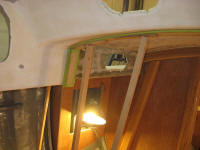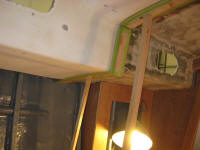 Next, I sanded various interior panels to prepare them for their next coat of varnish; I'd be applying the first coat of satin varnish over the entire interior soon.

By the end of the afternoon, the glue on the companionway ladder had cured, so I lightly sanded the parts and applied a coat of varnish to the new steps and the panel behind.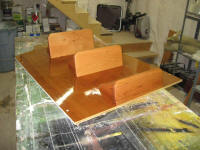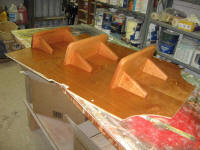 Total Time Billed on This Job Today: 7.25 hours