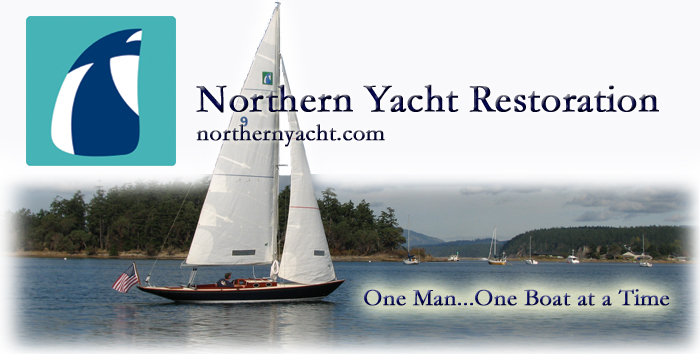 110 Cookson Lane | Whitefield, ME 04353 | 207-232-7600 | tim@lackeysailing.com
Waanderlust Project--Phase II | Monday, May 16, 2011

After compiling and ordering a list of material required to move through the various projects of this phase--specifically material for new engine foundations and wooden deadlight trim, among other things--I began preparations for the job of creating custom deadlight trim pieces to frame and withhold the glass deadlights in the main cabin. The new materials would arrive later in the week, after which I could get back to the engine foundations and build the actual deadlight trim.

This specific boat had once featured similar wooden trim around the deadlights, which had been removed long before the boat came my way. In the fall of 2010, towards the end of the first phase of work, the owner and I scrambled to figure out how these lights' installation was supposed to work, as at the time I discovered that the metal frames supplied with the boat did not fit the openings.

The first preparatory steps were basic and benign. The inside frames of the deadlights, against which the glass would rest and be sealed, needed several coats of protective varnish before I began, so to get started I masked off the trim inside and out as needed, and, over the course of the day, applied two coats of varnish: the first thinned significantly, the second less so.

Meanwhile, I turned to another small, yet important job. The wooden cockpit coamings and aft end of the cabin trunk required additional varnish for protection and appearance, and since the boat would be stored outside again for a period of time following this stage of work, I wanted to build up the varnish in these areas to a point that could withstand exposure; I'd only applied one or two coats before.

To that end, I masked off the areas as needed, sanded lightly, cleaned up, and applied a coat of varnish. Over the coming days, I'd repeat this process several more times till I'd achieved sufficient buildup.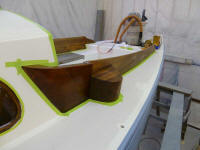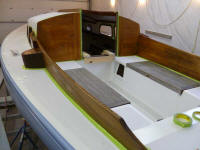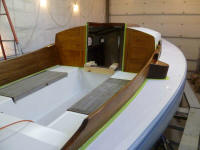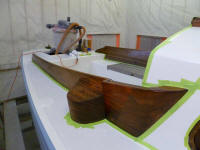 Total Time Billed on This Job Today: 3.75 hours