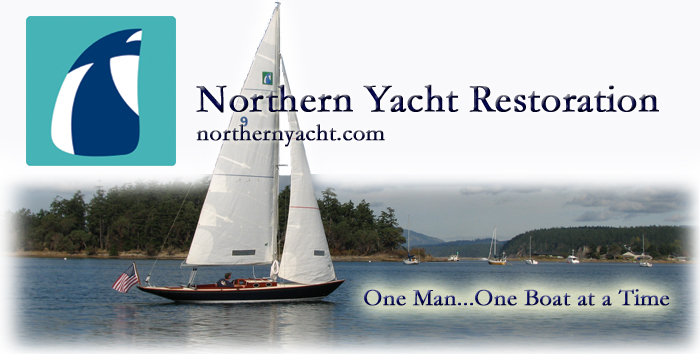 110 Cookson Lane | Whitefield, ME 04353 | 207-232-7600 | tim@lackeysailing.com
Waanderlust Project | Tuesday, May 11, 2010

Last October, Waanderlust, a 1963 Rhodes Swiftsure 33' sloop, arrived at the shop for storage prior to beginning a large restoration project. At the time, I'd simply covered her for safekeeping during the winter.

A few scheduling changes at the shop meant that the schedule for Waanderlust was advanced by a month or so; originally I'd anticipated beginning the job in late June. So, having wrapped up a couple smaller jobs in the past week or two, I took advantage of a pleasant afternoon to move boats, beginning by moving the boat that'd been in the shop for the past week, then shuffling another boat temporarily so I could gain access to Waanderlust, which had been in a back row since her arrival last October.

I removed the cover and moved the boat into the shop. My first tasks in the days ahead would be to clean up the boat to a point that I could work, and prepare the shop for the work ahead.