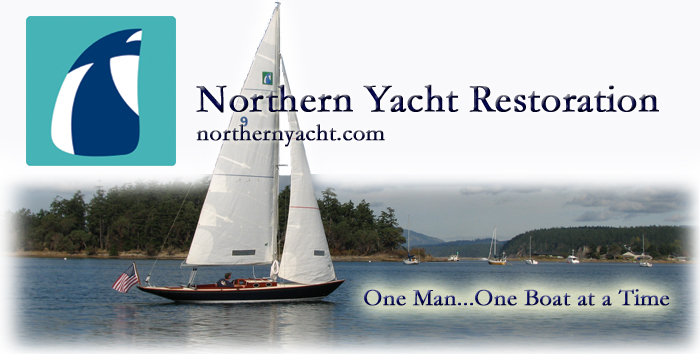 110 Cookson Lane | Whitefield, ME 04353 | 207-232-7600 | tim@lackeysailing.com
Waanderlust Project--Phase II | Thursday, June 2, 2011

I began the day once more with the engine foundations, starting by washing and lightly sanding the new tabbing to prepare it for the next steps.

I cut pieces of fiberglass to wrap over the top and down the sides, to secure the top plate, and additional pieces of lighter cloth to encapsulate the forward and aft ends of the foundations. Then I wet out and installed the new material, letting the top wrap directly over the slots that I'd cut in the foundations for access to the through bolts.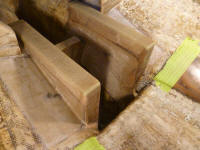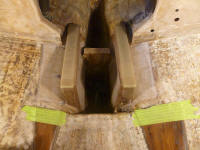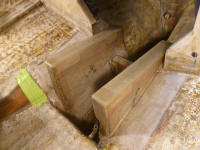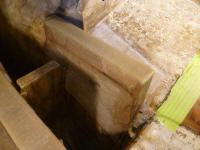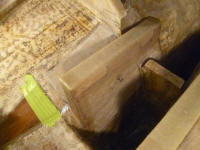 Later, after the new material had partially cured, I trimmed the overlap with a sharp knife to re-open the bolt slots.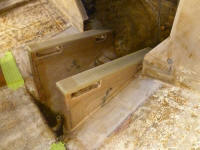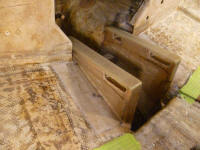 I spent the remainder of the day installing the deadlights and frames. I had everything set up and ready, so to begin I dry fit the glass in each opening to ensure that each piece fit as intended; I'd done this last fall as well, but before gooping up I wanted to be sure. I also test-fit one of the wooden frames over the glass to ensure that the fit was as anticipated.

I applied brown-colored sealant and pressed the glass into place on its flange, then added additional sealant over the glass, in the gap between the glass and the rough opening, and on the cabin trunk around the perimeter where the wooden frame would rest. Then, I installed the frame, driving the screws in by hand till all were tight and sealant squeezed out everywhere.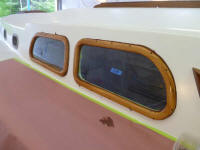 When I'd installed both frames on the port side, I cleaned up the excess sealant, first on the outside then, moving into the cabin, on the inside.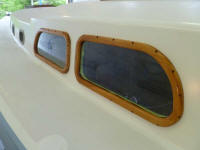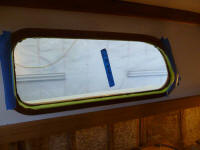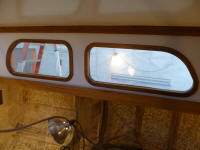 Later, I repeated the process on the starboard side.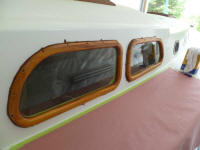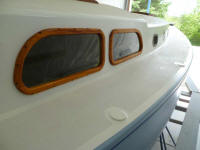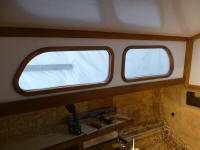 Using leftover ends of the boards I'd used to cut the actual material for the deadlight frames, I cut bungs for all the screw holes, then installed the bungs. I used some old varnish that had begun to thicken to secure the bungs, the traditional method of bung installation. I left the bungs to sit overnight, after which I'd trim the excess length.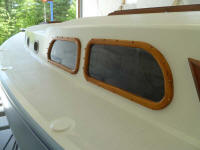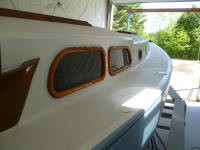 Total Time Billed on This Job Today: 5.75 hours