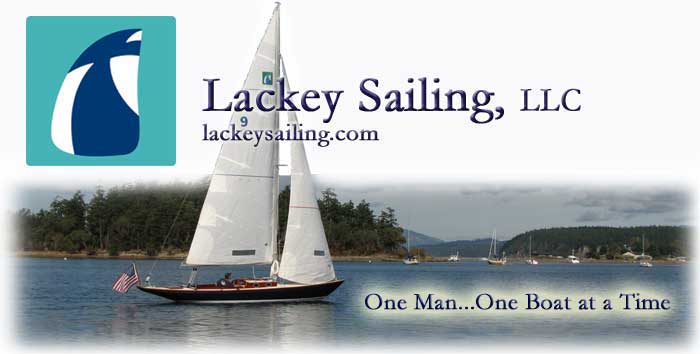 110 Cookson Lane | Whitefield, ME 04353 | 207-232-7600 | tim@lackeysailing.com
Waanderlust--Phase IV | Thursday, July 9, 2015

After a late start, I got back to work on the stanchion bases on the port side. There were three remaining, and I installed them all at once, applying sealant and driving home the screws from above before heading below to finish the installations. Afterwards, I cleaned up the excess sealant from around the bases.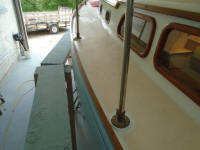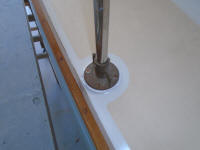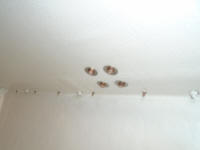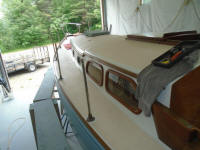 Moving over to the starboard side, I repeated the process, first by drilling and tapping all the screw holes for the remaining stanchions (five), then installing them in two operations: first the three amidships, accessible from the cabin; then the two aftermost ones, which I accessed from the cockpit locker.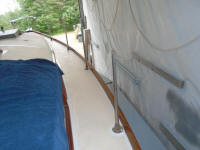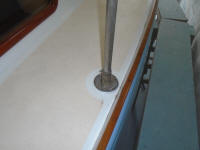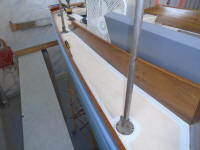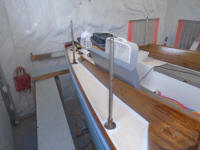 On the foredeck, I laid out the location for a bronze anchor chain pipe, then prepared the opening in the usual way by masking the deck and marking the hardware footprint and overboring the fastener hole locations to leave room for epoxy for core isolation. To cut out the large hole for the chain, I used a hole saw at each end of the elliptical opening, then connected the two along the marked lines with a jig saw.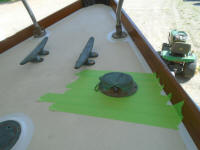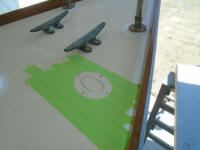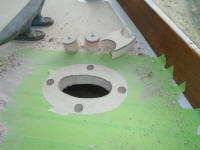 Afterwards, I removed some of the core around the opening, leaving a void that I filled with thickened epoxy to seal the exposed core through the hole.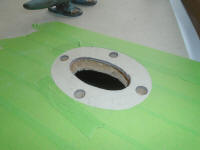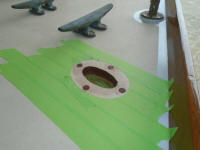 The original chainplates were stainless steel and appeared to be in sound condition, but were covered with various bits of paint, surface staining, and old sealant. Before the end of the day, I had time to clean up four of them--the four flat plates for the lower shrouds. I'd continue with the main shroud chainplates next time. Meanwhile, I noted and ordered the new fasteners required to install the chainplates.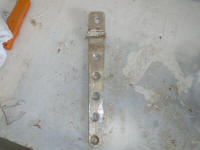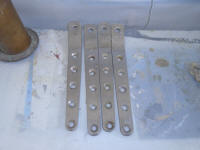 Total Time Billed on This Job Today: 5 Hours

<Previous | Next>

0600 Weather Report:
50°, clear. Forecast for the day: Mostly sunny, 78°