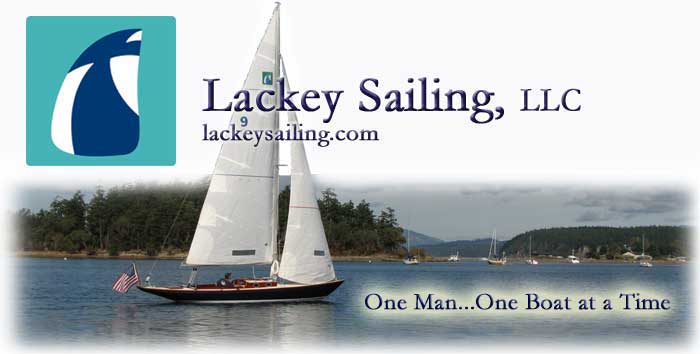 110 Cookson Lane | Whitefield, ME 04353 | 207-232-7600 | tim@lackeysailing.com
Waanderlust--Phase IV | Wednesday, August 19, 2015

Above the cutout I'd made for the AC switch panel, I prepared an opening to contain a work box and the GFCI AC outlet I'd sourced for the galley, then wired up and installed the new outlet. Beneath it, I made the connections to the AC panel, along with those from the shore power cord receptacle in the cockpit, completing the AC side of the electrical system.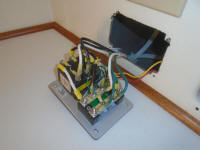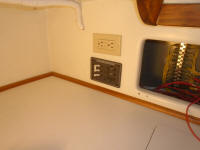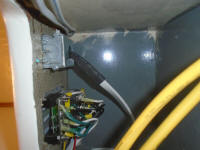 I secured the wooden electrical panel door to the cabinet with a pair of brass hinges, then installed the DC panel as required. With the door flipped down, access to the back of the panel and space beyond was easy.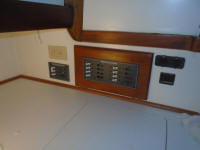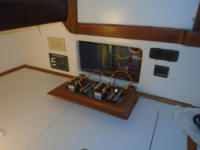 I began with the large cables to bring power into the panel. Because the panel had two distinct four-breaker stacks, I had to install a jumper between the two sides. I used the large battery cable I'd led into to the electrical locker earlier; this had substantially more capacity than the panel would ever draw, but it's good practice to use the same size feed cable as on the batteries themselves.

For the negative cables, I chose to use a pair of slightly smaller (#4) cables from the nearby negative distribution buss, instead of one larger cable and a jumper to connect the two sides of the panel.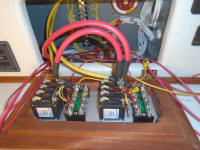 These panels--including the AC panel--featured backlighting for the labels, if I connected small wires (pre-wired on the panel) to a power source. So I connected the six required wires, three each for positive and negative, to the center portion of the panel, where there was a small negative buss and where I could connect to the hot side of the switches.

Afterwards, I made up the positive connections to the breakers as needed, using up six of the breakers for running lights; anchor light; steaming light; cabin lights; port outlets; and starboard outlets. Later, I'd get more labels to fill out the panel as required, but I installed the stock labels I could find to mark the breakers accordingly.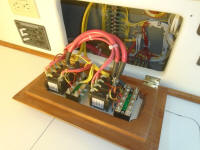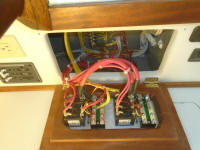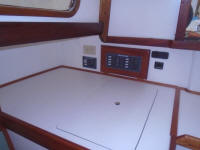 Total Time Billed on This Job Today: 6 hours

<Previous | Next>

0600 Weather Report:
65°, foggy, humid. Forecast for the day: Becoming sunny, 80s, humid