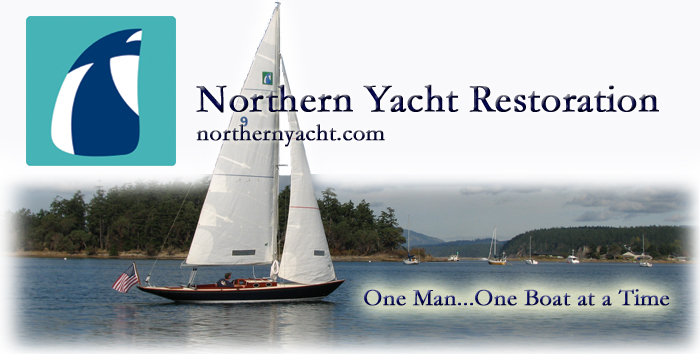 110 Cookson Lane | Whitefield, ME 04353 | 207-232-7600 | tim@lackeysailing.com
Waanderlust Project | Wednesday, August 11, 2010

It was time to begin the interior surface prep. I began in the cockpit lockers and beneath the cockpit, where I sanded everything within reach to remove old, loose paint, rough edges, resin spills, and surface grime. I sanded the engine room and down into the bilge to the extent possible, stopping when the surface became too oily; in a later step, I'd soak the bilge with detergent to emulsify the oily residue.

Moving inside the cabin, I continued the process. I sanded the aft bulkhead, removing layers of old paint, and the exposed hull areas in the galley area, up to and including the underside of the sidedecks in those areas.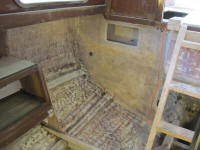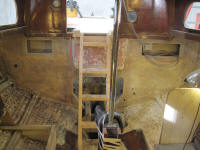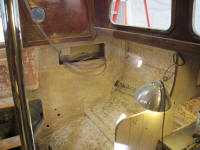 Marketing jargon is fun. An original 1963 brochure for the Rhodes Swiftsure that I found in a folder provided for my perusal by the owner proudly states that the inside of the cabin trunk "is finished smooth by a special process". Now, the original cabin trunk on this boat is long gone, but the inside forward end of the cockpit well, standing proud of and constructed separately from the adjacent fiberglass bulkhead, was still in place, and would have been similarly exposed in the original interior; it stood to reason that the special process by which this section was finished smooth might well have been the same as that touted in the brochure.

As I suspected all along, paint removal revealed a surface that had been covered with pink polyester-based fairing compound--aka Bondo. Exotic stuff in the 60s, and a special process indeed.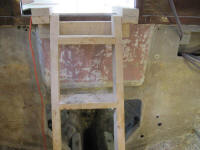 Moving on, I sanded the "cabin sole" (really the tops of the molded-in water tankage in the bilge; later, when I removed the inspection ports for tank servicing, I'd clean up the edges of the covers around the screw heads) and the insides of the lockers beneath both settees, finishing up with just enough time to vacuum up the day's debris. Tomorrow, I'd continue the process with the upper portions of the exposed hull sides in the saloon, the undersides of the sidedecks, and beyond.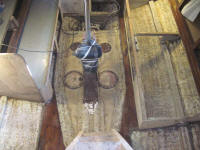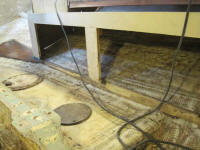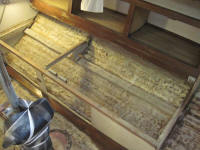 Total Time Billed on This Job Today: 7.75 hours