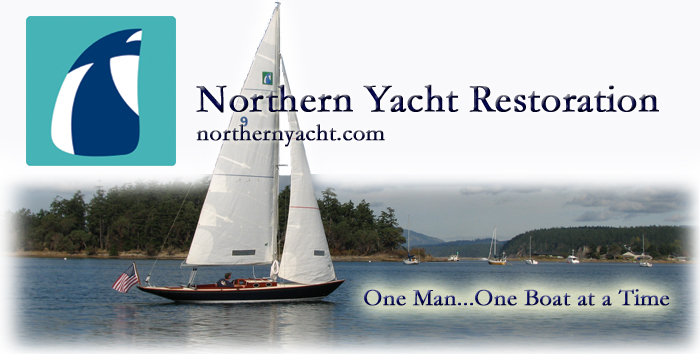 110 Cookson Lane | Whitefield, ME 04353 | 207-232-7600 | tim@lackeysailing.com
Pearson Vanguard #5 | Wednesday, June 29, 2011

A computer crash overnight ruined my plans for the day, but despite the setback I made it a priority to remove the diesel from the boat. A few additional attempts to loosen any of the accessible bolts on the port aft engine mounts failed, so eventually I resigned myself to cutting off the top of the mounting stud, along with the large nuts. After trying with a reciprocating saw, which failed, I used an angle grinder with a cutoff wheel to remove the stud.

That done, I connected my engine hoist and crane and, with some effort, removed the engine from its tight confines. The existing cabinetry, plus the galley sink, made this difficult, and along the way I had to stop several times to make adjustments and remove additional peripherals, including the wiring harness and battery connection on the port side, which had been previously inaccessible.

Eventually, I removed the alternator from its mountings to let the engine move further to port so I could twist it around as needed, and removed the tall engine exhaust riser, which never could have made it out of the existing space as is. But after an hour or so, I finally succeeded.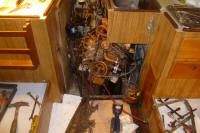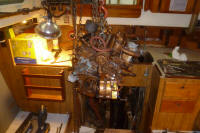 I hoisted the engine through the companionway and over the the shop floor, where I left it for the remainder of the day while I worked on my computer problems.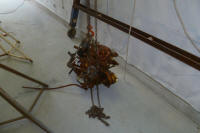 The engine room was about typical, with heavy accumulations of grease and rusty debris coating all surfaces, hoses, and nearby wiring. Most of these hoses and related items would require replacement. The original fiberglass engine foundation had been severely cut into in several areas to accommodate the diesel engine's different shape, and this called into some question the suitability of this foundation for future use.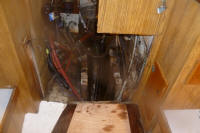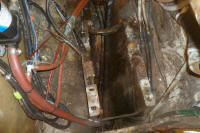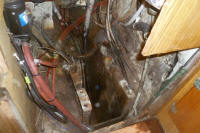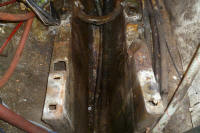 Total Time on This Job Today: 1.75 hours