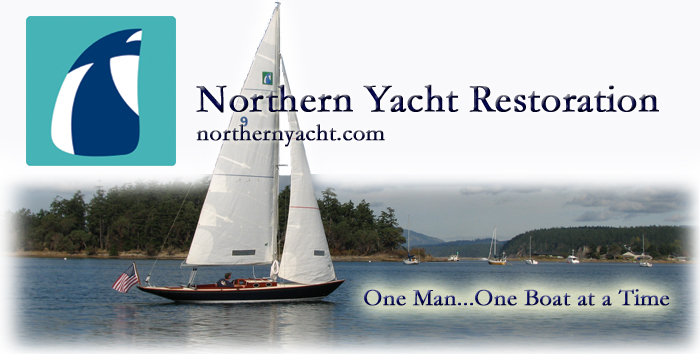 110 Cookson Lane | Whitefield, ME 04353 | 207-232-7600 | tim@lackeysailing.com
Totoro | Wednesday, December 28, 2011

One more round of washing and light sanding--this time all by hand--completed the preparatory work on deck, deglossing and smoothing yesterday's epoxy application.

After cleanup, I masked off the nonskid areas, following the original pattern lines where possible and striking new ones on the cockpit seats. I also masked around the outboard well inside and out for future painting.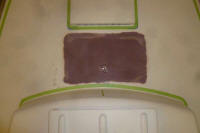 I wanted to give the new epoxy a little additional cure time before proceeding with paint, but also wanted to perform a test to determine its readiness. The outboard well provided the test bed. Along with a recessed locker beneath the starboard cockpit seat (the old paint on the rough roving surface had faked away in many areas), I applied a coat of primer to both areas, which would serve as the base for light beige paint to blend these areas as well as possible with the original gelcoat. If the primer cured appropriately on the small outboard well patch, I'd proceed with priming all the recored deck areas tomorrow.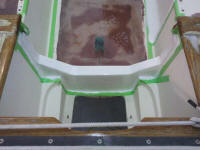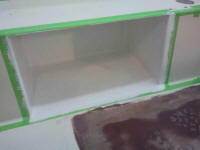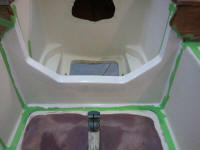 The owner had requested that I replace the original bow chocks--which were quite small and undersized for his mooring line--with something larger, so I purchased a pair of new 6" bronze chocks and installed them.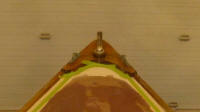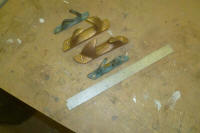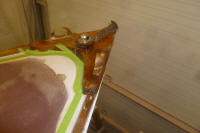 In the cabin, an old piano hinge on the step was secured with plain steel screws, now badly rusted. The owner requested that I remove this hinge and replace it. I drilled out the old fasteners and secured a new length of stainless steel hinge with new screws, completing the task.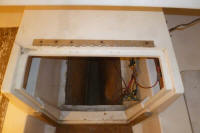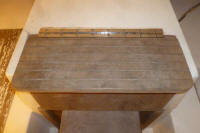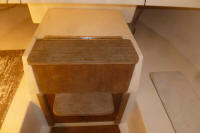 Total Time on This Job Today: 4.75 hours