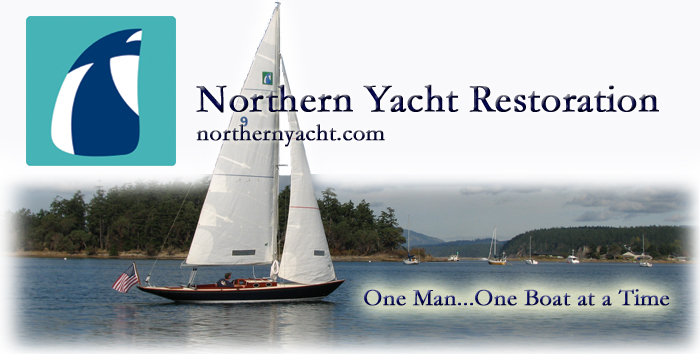 110 Cookson Lane | Whitefield, ME 04353 | 207-232-7600 | tim@lackeysailing.com
Totoro | Tuesday, December 13, 2011

After rechecking the remaining areas I'd previously marked, I continued the core removal process, beginning with the mast step. As anticipated, the area directly beneath the step had been repaired and reinforced sometime in the past, with solid fiberglass and filler around the edges. I left this mostly in place, other than removing some of the filler, as it seemed sound. The core immediately outside of the repaired area was extremely wet, but over a limited area.

The port forward end of the cockpit seats had been so wet that water would spurt through a hole in the deck when trod upon. This made removal of most of the core in this area straightforward, and I removed the core from a wide area extending slightly into regions of dry, sound core.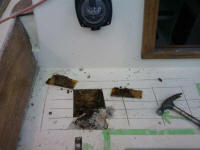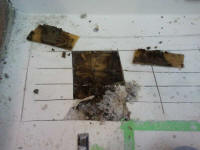 Similarly, the core immediately surrounding the rudder post was so wet that the deck skin fairly jumped out of position once I'd made the saw cuts, but along the edges and particularly at the forward end of my cut, the well-stuck original core was difficult to remove, reinforcing once again just how strong a non-compromised cored structure can be.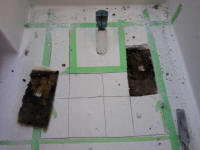 I finished up with two smaller areas on the port cockpit seat. Here, the worst of the damaged core was beneath the remaining flanges around the edges of the cutout, but I'd be removing that soon.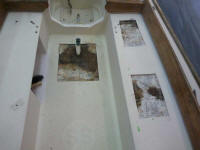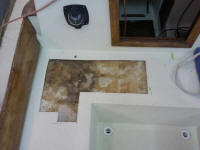 I'd hoped to continue with the next steps, but unrelated events prevented me from getting as much done as I'd wanted. Next, I'd grind around the edges of the openings to prepare for eventual fiberglassing, and continue the core removal around the edges as needed.

Total Time on This Job Today: 3.75 hours