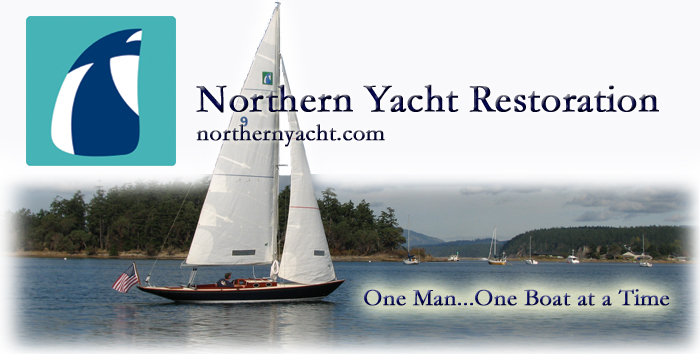 110 Cookson Lane | Whitefield, ME 04353 | 207-232-7600 | tim@lackeysailing.com
Surprise | Friday, October 15, 2010

The hull surface was original gelcoat (1984), and was rather dirty and oxidized. However, other than a minimal collection of the usual docking scratches and the like, the off-white gelcoat was in generally good condition, and I thought it ought to clean up fairly well.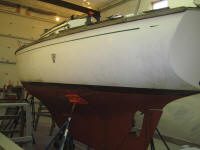 The other day, I'd started the gelcoat restoration work on the transom. To complete that part of the job, I first removed the old hailport--vinyl lettering--using a heat gun and putty knife. The letters came off easily, and after removing remnants of adhesive with solvent, I re-polished the entire transom. Meanwhile, the owner was working on deciding on his new name and style so I could order the new graphics.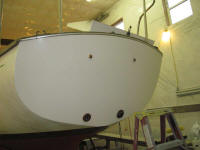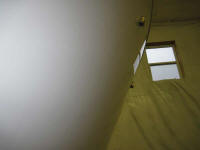 Next, I set up full-length staging at hull height along the starboard side, and, over the course of a few hours, cleaned and polished the gelcoat from toerail to waterline, using rubbing compound and a finish polishing compound. I was quite pleased with the results: the process removed all the dirt and oxidation, and imparted a decent shine to the 26 year-old gelcoat for a vast improvement to the boat's appearance.

With the starboard side complete, I installed a new gold leaf cove stripe, simply covering the old one since I'd determined that the paint was too tenacious to remove with anything approaching ease. It occurred to me during the polishing process that it was possible the cove stripe had been painted on with green-colored gelcoat, though this was unorthodox; however, that would help explain its resistance to removal using normal means.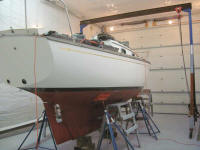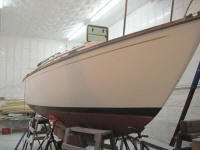 Starboard side polished; port side unpolished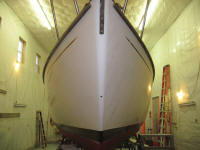 Afterwards, I repeated the process on the port side. I thought I had enough of the gold leaf tape left on the roll to complete; I was almost right, but unfortunately I ran short tantalizingly close to the end. I had more of the product on its way, and I'd complete the port cove stripe once it arrived.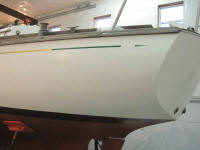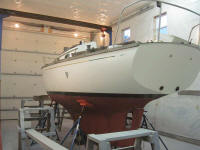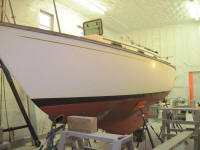 Total Time on This Job Today: 7 hours