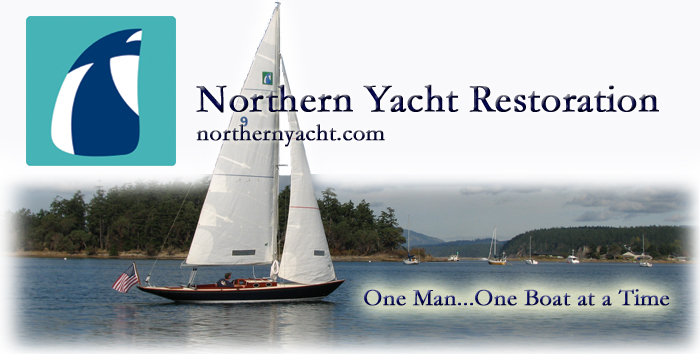 110 Cookson Lane | Whitefield, ME 04353 | 207-232-7600 | tim@lackeysailing.com
Summer Song | Wednesday, October 20, 2011

Yesterday's application of fairing filler on the deck areas was cured and ready for additional steps, so I sanded the areas as needed and cleaned up afterwards.

Next, I turned to the port forward end of the toerail. This section, including the breasthook, was splintered where a through-bolted chock had been pulled sideways by a mooring line. At the aft end, I sawed an angled cut in a clear, undamaged area of the toerail, then sawed and chiseled away the damaged wood on the breasthook back to clean wood. I cut off a couple protruding bolts left over from the old installations. Later, I'd cut a new piece to fill in the area.

I spent a large part of the rest of the day hand-sanding the toerails through a series of grits, ending at 220 once the rails were cleaned up as much as possible and smooth.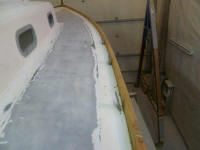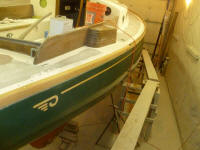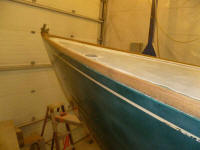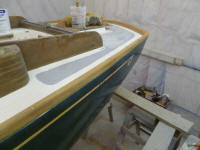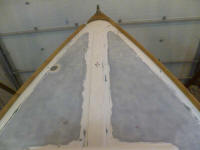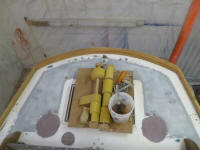 When I finished sanding, I cleaned up the sawdust and applied a thin coat of fine fairing filler (gray) to the deck areas where required, which would probably be the last application required.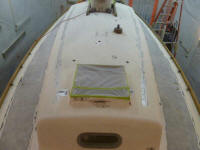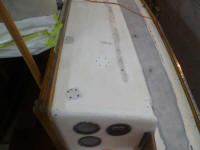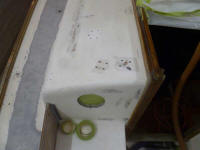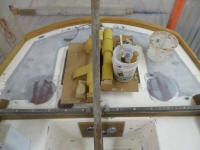 Total Time on This Job Today: 7.5 hours