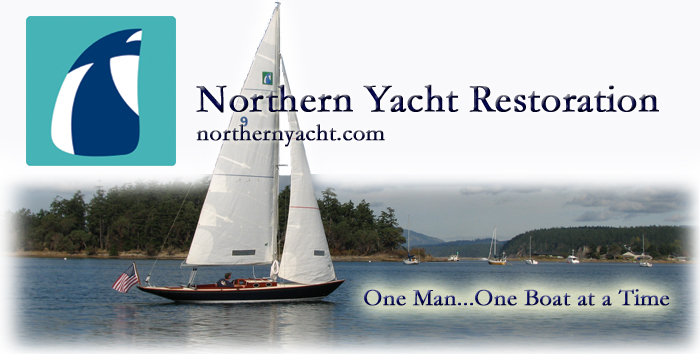 110 Cookson Lane | Whitefield, ME 04353 | 207-232-7600 | tim@lackeysailing.com
Home
| Contact Lackey Sailing |
Conversion Projects
|
Project Logs
|
Tim's Projects
|
Flotsam

S

ummer Song

| Friday, January 17, 2014

To begin, I water-washed, then lightly sanded, the new fillets and surrounding areas to remove any rough edges and otherwise prepare the areas for additional work. After cleaning up, I reinstalled the engine template, 1/2" plywood spacers, and shaft centerline string to double-check the height and positioning of the now well-epoxied foundation bases before proceeding. Everything still looked good, as it should have, but one can never check these things enough.

From two 1/2" x 3" x 24" blanks of G-10 epoxy fiberglass, I prepared the final top surfaces of the foundations. The two sections were several inches longer than they needed to be, so I marked them and cut them off at the final lengths.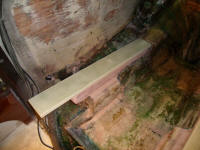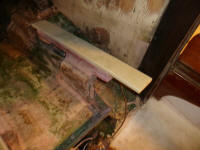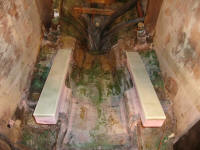 I positioned the engine template once more, this time only to mark the general area where the four mounts landed on the foundations. I wanted that information so I could plan where to place four screws--two on each side--with which to clamp the G-10 in place. I didn't want these screws to end up in the way of the engine mounting bolts later. At each location, I drilled and tapped and counterbored flush holes for 1/4" machine screws to secure the G-10 during epoxying and fiberglass work later.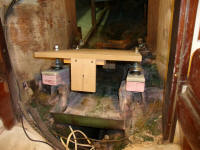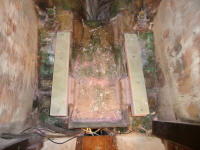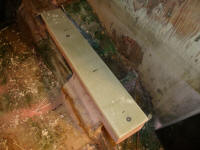 After final cleanup, I prepared various pieces of biaxial tabbing with which to secure the foundations, measuring adn cutting the pieces to fit in the locations required while the surfaces were still dry and tack-free.

That done, I secured the G-10 permanently with thickened epoxy, using the screws to pull the strips tightly into position without the need for clamps. This allowed me to continue working on filleting and fiberglass work immediately, starting with the final fillets at the after ends of the foundations, which I built up with additional thickened epoxy in several "lifts", adding a bit more thickness each time (to avoid undue exotherm) till I'd achieved the final contours I wanted.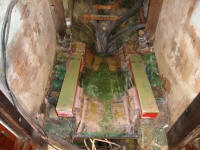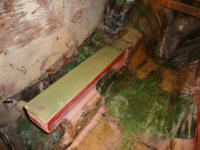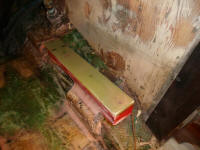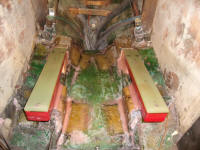 Once the fillets had gelled sufficiently, which conveniently coincided with the end of lunch break, I wet out with epoxy and installed the tabbing. At each of the four "corners", as it were, I began with two layers of biaxial tabbing on each side of the foundation, running up to the top edge of the foundations then down onto the hull. Then, I installed a longitudinal layer of 6" material over the tops of the foundations, wrapping the sides down and over the seam between the greenish G-10 and the red fiberglass beneath, as well as over the top edges of the initial two layers of tabbing. Finally, I added a third strip of tabbing at each "corner", running this piece continuously from side, up over the foundation top, and down the other.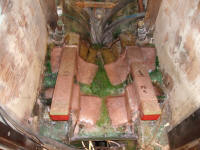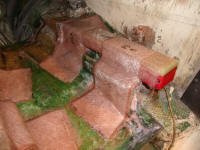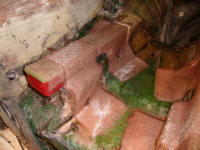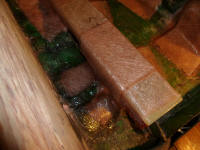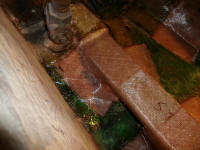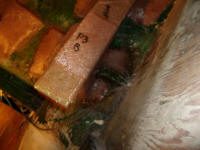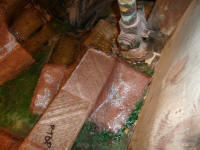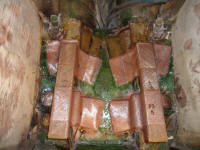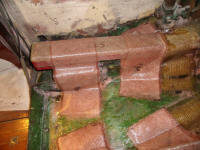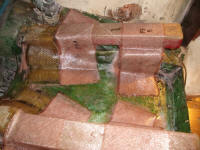 Total Time Billed on This Job Today: 5.25 Hours