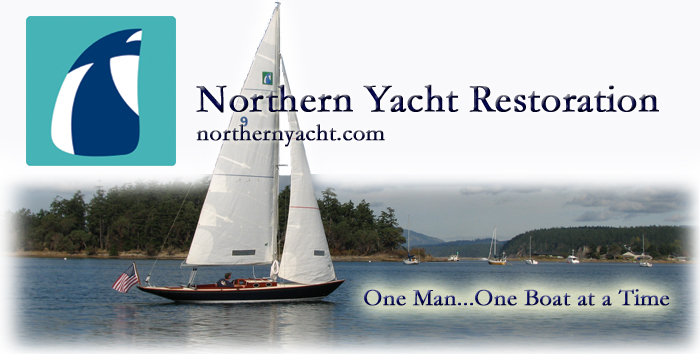 110 Cookson Lane | Whitefield, ME 04353 | 207-232-7600 | tim@lackeysailing.com
Home
| Contact Lackey Sailing |
Conversion Projects
|
Project Logs
|
Tim's Projects
|
Flotsam

S

ummer Song

| Thursday, January 9, 2014

The paint work in the head was complete, so I spent the first part of the day reassembling things and putting the space back together.

To protect the adjacent finished surfaces during the toerail work ahead, I installed protective paper on deck and a layer of soft foam along the top edge of the hull.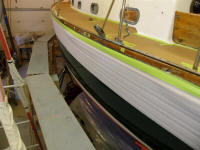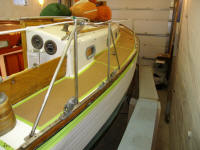 Having determined during an earlier work session that the bolts securing the genoa tracks would either spin in place or break off during removal attempts, I used a reciprocating saw to cut the bolts and free the tracks, cutting along the top edge of the rail a little below the tracks themselves. I'd deal with the leftover studs later. I did this on both sides.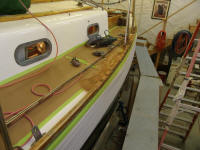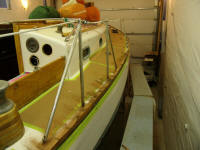 Starting at the port bow, I removed the old toerail. Since the old rail was in poor condition, with no reason to attempt salvage, I used a chisel to open up the top of the rail in way of each fastener, exposing the heads for removal. When possible, I backed out the fasteners, which seemed to work well in the forward sections, but less well as I moved aft. The old sealant beneath was wasted and dried, and offered no resistance to the rail's removal.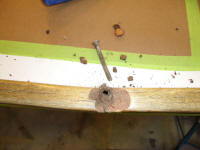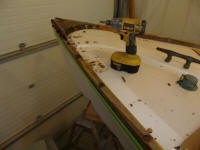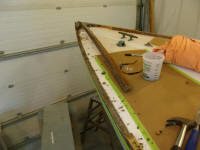 Further aft, in way of the genoa track fasteners, I pried the rail up around the studs as needed, and continued my way aft to the taffrail, which I left alone for the moment.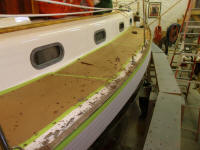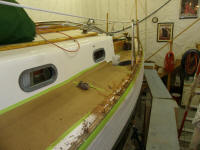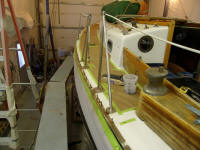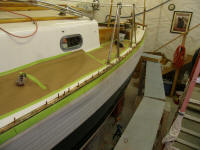 I repeated the process on the starboard side, beginning with removing the stem piece (I suppose we could loosely call it a breasthook).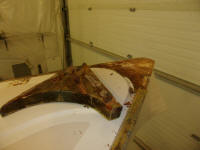 As before, I worked my way aft from there. Once more, the forward sections seemed allow fastener removal, but the fasteners aft of about the chainplates tended to spin in place or otherwise resist removal. As needed, I used the chisel to break apart the rail to release it from the recalcitrant bolts, leaving the studs to deal with later. I saved a few pieces of the old rail to use as a guideline for the new construction.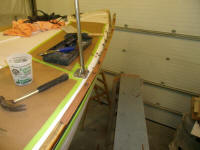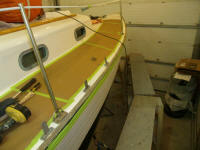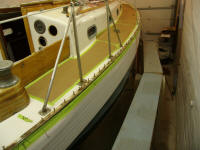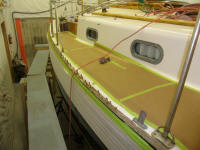 Total Time Billed on This Job Today: 8.25 Hours