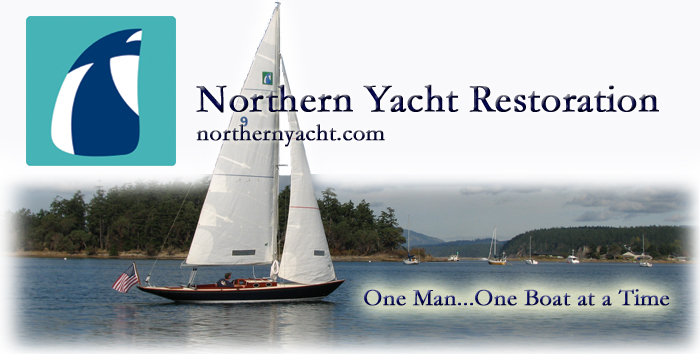 110 Cookson Lane | Whitefield, ME 04353 | 207-232-7600 | tim@lackeysailing.com
Summer Song | Thursday, December 1, 2011

First on the day's work list, after sanding the toerails, coamings, and other brightwork to prepare for the next coat of varnish, was installing the handrails. With two coats of varnish on all surfaces, it was time to permanently reinstall the rails so I could plug the screw holes and continue the varnish buildup.

I'd already drilled (some time ago) the fastener holes for the rails, so installation was relatively straightforward. For each rail, I applied a bead of sealant to the deck, and especially around the screw holes, then installed the rail with bolts inserted from the top. Afterwards, I cleaned up the excess sealant and left the rails alone for the rest of the day to allow the sealant time to cure sufficiently before I continued with the varnish on the rails.

Continuing on the coachroof, I installed several pieces of hardware, including the mast step, several padeyes, and halyard winches and cleats at the aft end. For each piece, as represented by the first set of photos below, I masked off the deck around the hardware, cleaned up each bolt hole as needed with a tap (most of the fastener holes were already tapped), and installed the hardware with sealant and new fasteners.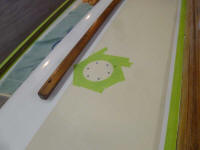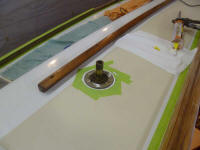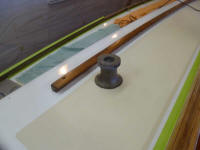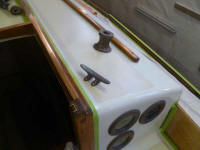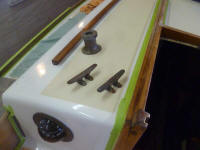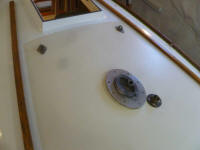 At the end of the day, I cleaned up from the day's efforts and solvent-washed and tacked off the brightwork before applying the third coat of varnish to all areas.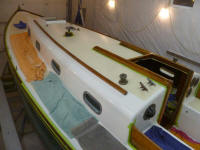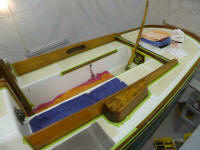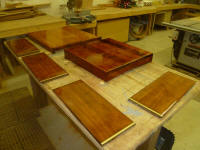 Total Time on This Job Today: 8 hours