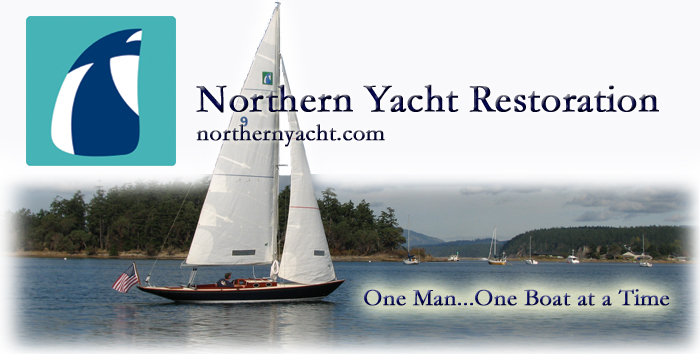 110 Cookson Lane | Whitefield, ME 04353 | 207-232-7600 | tim@lackeysailing.com
Home
| Contact Lackey Sailing |
Conversion Projects
|
Project Logs
|
Tim's Projects
|
Flotsam

S

ummer Song

| Tuesday, April 30, 2013

I was reasonably certain that the existing finish on the hull was also a linear polyurethane paint system, and despite its age it was in essentially good condition. Before proceeding, however, I wanted to confirm its suitability as a substrate for the new paint, so I performed a cross-hatch adhesion test and solvent compatibility test to be sure.

In a small area, I scored the paint with a sharp knife into a small crosshatch pattern, and pressed tape over the scored area before pulling it off quickly. The paint remained intact around the scores. Afterwards, I soaked two small rags in topcoat reducing solvent and taped them against the hull, one over the crosshatch, the other on an uncut area of the paint, and left them for the prescribed amount of time. The solvent caused no damage or issue with the paint beneath in either area, so since the existing finish was sound and in good condition, I'd be able to paint over the top without removing all the old paint first, as I'd hoped.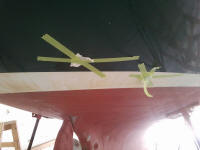 Because I was unsure what sanding would do to the existing demarcation at the boottop and bottom, I took the time to mark each position with a series of transfer marks, using a 12" steel ruler to make reference marks on the bottom from which I could recreate the two lines in their original position if necessary. I did this around the entire boat, ending up with a series of marks all around. These fine marks didn't show up well in photos, but they are the reverse L-shaped marks seen on the bottom paint here; the vertical leg of each mark aligns the ruler, while the horizontal mark registers the correct height at the top end.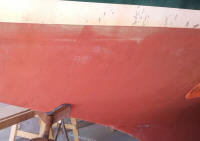 After documenting the existing condition of the hull and noting various details about the size and position of the name and covestripe, I set up staging all around the boat at the correct height for hull work, then solvent-washed the topsides with a proprietary degreasing solvent meant to remove surface contaminants, wax, and to generally prepare the surface for sanding. Afterwards, I removed the vinyl covestripe tape I'd put on as a temporary measure a year ago, when the boat had been here for deck work, and masked off the toerail above the topsides as a first step in covering the decks for the work ahead.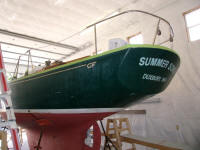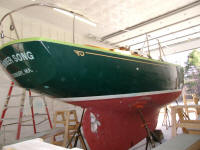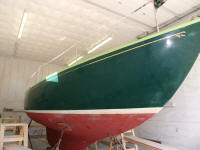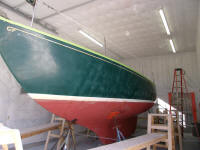 Total Time on This Job Today: 4.25 hours