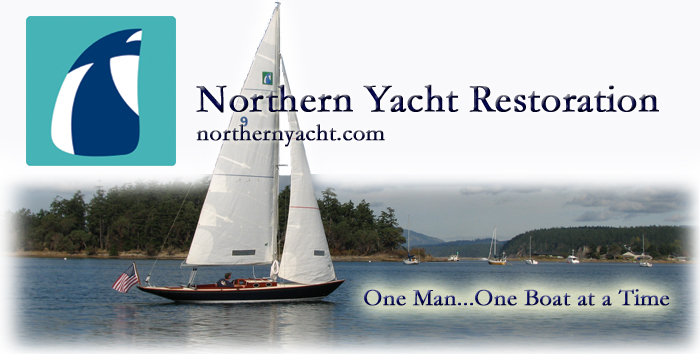 110 Cookson Lane | Whitefield, ME 04353 | 207-232-7600 | tim@lackeysailing.com
Home
| Contact Lackey Sailing |
Conversion Projects
|
Project Logs
|
Tim's Projects
|
Flotsam

Southerly | Thursday, November 20, 2014

After a light water wash, I sanded the patches on the starboard aft cabin bulkhead, by machine and hand as needed in the confined space. Despite being less than pleased with my application of fairing compound earlier, the end result worked out well, and this step completed the repair.

With the sanding now complete, I could vacuum up all the sanding dust throughout the boat, after which I solvent-washed the overhead and bulkheads and made final preparations for primer.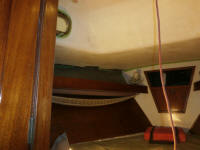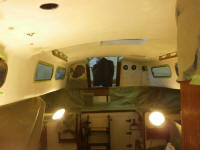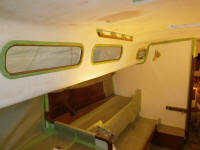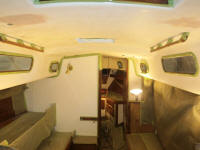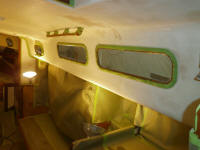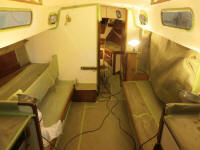 Now, with roller and brush, I applied one-part primer to the overhead, main cabin bulkhead, and after V-berth bulkheads. Because one-part paints don't cure over fresh epoxy, I used some 2-part epoxy primer to coat the new patches on the starboard aft bulkhead; this primer would cure properly and allow me to continue with topcoats shortly thereafter.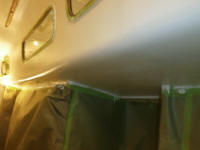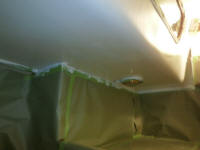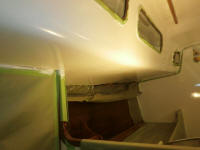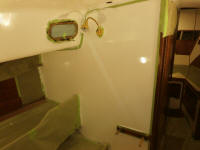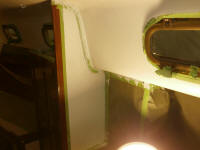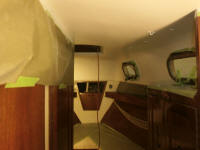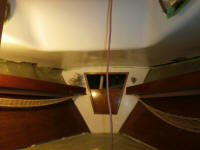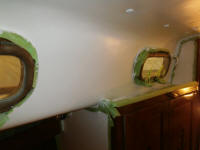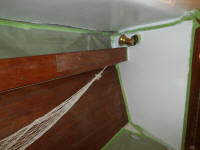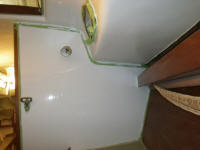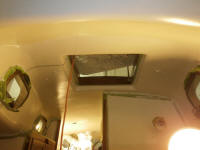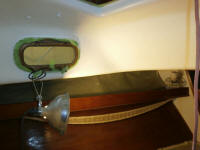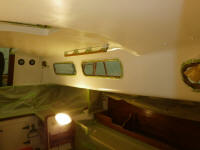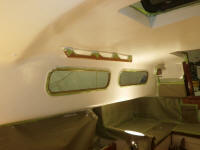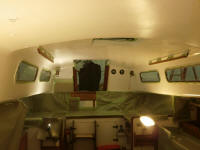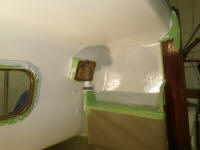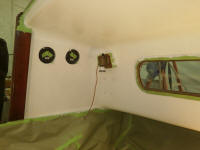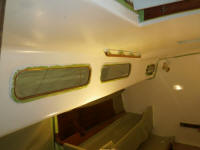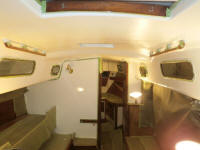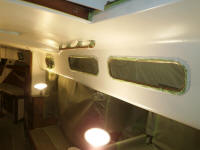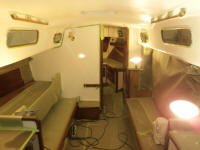 Once the primer was complete, I had time to take care of a couple more items on my list, starting with the galley sink drain (again). Earlier, I'd gone ahead and reinstalled the sink drain fitting with new sealant. To complete the plumbing, this time, I used a plastic and Marelon fitting that incorporated a special collar with the correct threads for the sink drain fitting itself. The collar held a 1" pipe nipple, the largest size available in this type of fitting, so I had to adapt it up to the 1-1/4" drain hose size, leading to a clamp-heavy appearance--but now presumably watertight and superior to the thin brass tailpiece the whole setup replaced.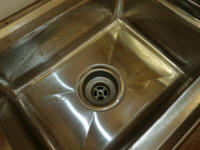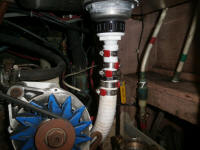 There was a metal bracket for securing an old hard-case liferaft on the coachroof just aft of the mast. The owner had sold the liferaft and didn't want the bracket there anymore. At issue was the fact that someone in the boat's past had secured the liferaft bracket with 3/8" bolts embedded upside down in the deck, creating studs for bolting--all well and good enough when the bracket was needed, but now they had to go.

To get these out, I had to break them out of the epoxy or whatever was holding them in place. I discovered that the bolts were set in large holes bored in the deck, with washers just below the faired surface, and without too much difficulty I was able to chip out the brittle material within and release the bolts, leaving four relatively clean and neat holes behind that I'd repair in due course.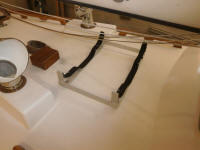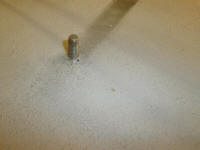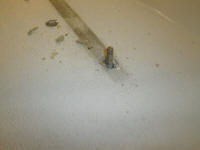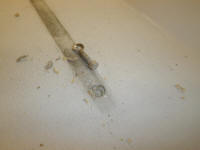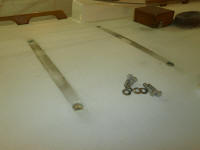 Total Time Billed on This Job Today: 7.5 Hours