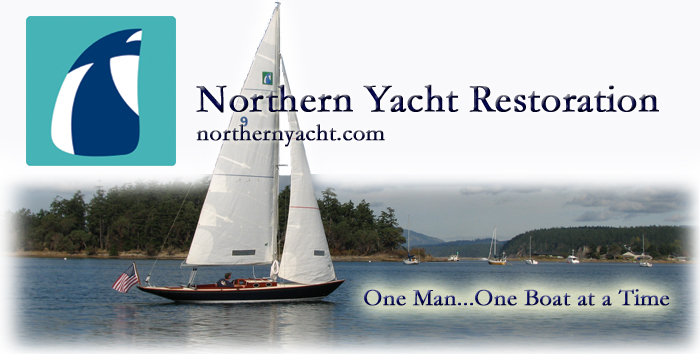 110 Cookson Lane | Whitefield, ME 04353 | 207-232-7600 | tim@lackeysailing.com
Home
| Contact Lackey Sailing |
Conversion Projects
|
Project Logs
|
Tim's Projects
|
Flotsam

Southerly | Tuesday, December 2, 2014

Now that the epoxy had cured overnight, I completed the work on the aft toerail repair with some final shaping and sanding.

Moving on to the forward repair, I began with a piece of teak that I cut to the shape of my little template. With a bit of fine-tuning, I slid the new graving into the void as far as it could go. This left a bit of extra thickness, so I traced the outline and removed the new piece so I could trim its thickness to the line.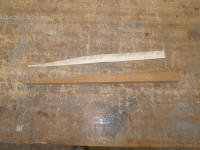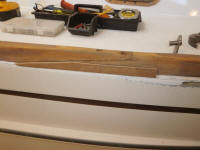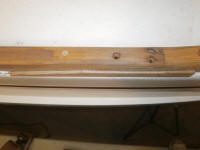 Afterwards, I installed new sealant in the void, filling the bottom and back sides of the void (which also had the effect of resealing one of the original toerail fasteners that appeared to have been leaking during rain tests outdoors), as well as the existing edges of the old toerail, then applied thickened epoxy adhesive--colored with teak dust--to the mating surfaces of the new piece before pushing it tightly into place, where I held it with a couple clamps while the epoxy cured. Meanwhile, I installed new bungs in the several screw holes I'd opened up earlier.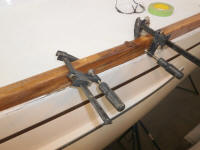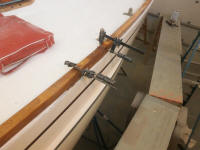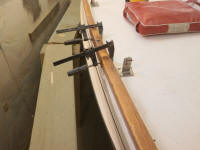 With the refinishing complete on the cabin top handrails, I removed the masking tape.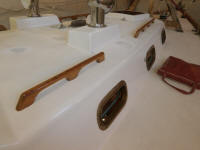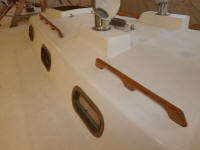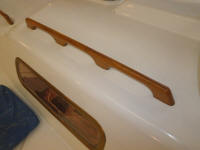 Now I lightly sanded the other woodwork on deck--toerails, coamings, and cockpit trim-to prepare these areas for maintenance coats of new finish. After vacuuming and solvent-washing, I masked off the woodwork. The finish on the block surrounding the centerboard winch was in poor condition, so I first stripped the old finish completely before sanding the block clean and masking.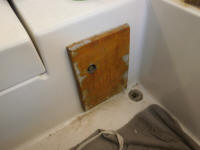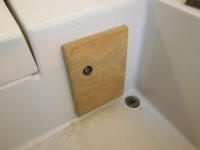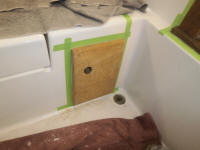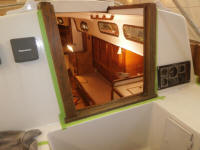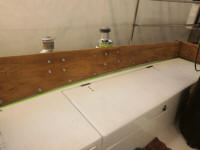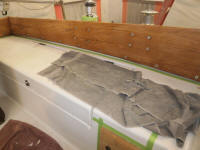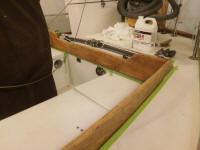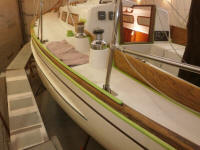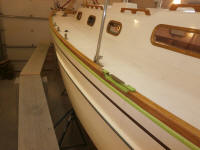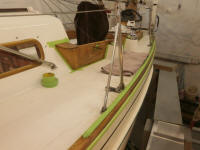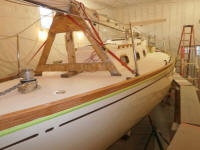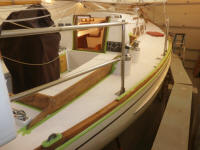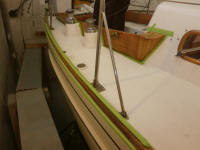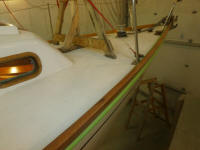 I wanted to wait till the forward toerail was complete (which would require an overnight cure), and it was too late in the day to apply the first coat of finish to the rest of the woodwork anyway, but before knocking off I applied a coat of finish to the after toerail repair and the bare centerboard block to jumpstart these areas, and also a coat on the forward hatch and the mast wiring conduit cover that I'd removed earlier for this purpose.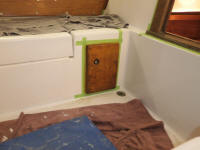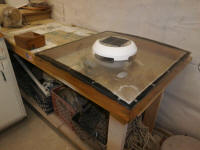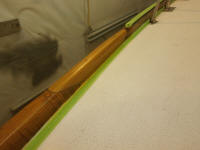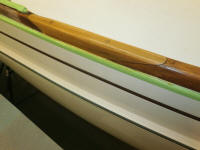 Total Time Billed on This Job Today: 7 Hours