Skeedeen | Monday, May 3, 2010

In order to install a removable backrest on the engine box, which would serve an aft-facing seat, I first needed to lay out and install two receptacles for the 1" tubing from which the backrest would be built. I obtained a second 1" Perko socket-type flagpole base that fit the tubing, after discovering the casting on another example of the same product left the socket too tight to accept the stock tubing.

In earlier discussions, we'd settled upon mounting the bases 15" forward of the aft trim on the engine box, with the sockets' centers in line with the outboard edges of this trim. With these dimensions at hand, I marked the drilling centers for the sockets, then drilled them with an appropriately-sized hole saw.

Next, I removed 1/4" or so of core material from within the hole, which I'd replace with epoxy in a later step. I marked the three screw holes for each base, then overbored these holes with a 1/2" bit to remove the coring around the fastener holes as well.

Finally, I filled the voids in the core with a thickened epoxy mixture. With the threat of showers in the forecast, and the boat outdoors, I taped some plastic containers over the new cutouts to minimize any water into the new epoxy while it cured. (It never did rain.)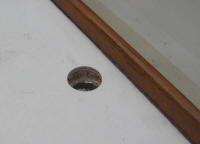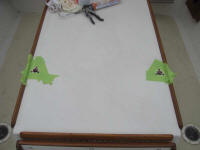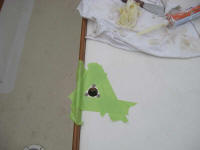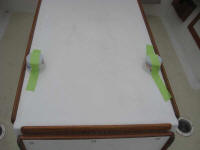 The flagpole socket mounts incorporated a hole in the bottom of the casting for drainage. Because we didn't care to have these drain directly into the engine room, and onto the engine, I chose to fill the drain holes. I roughed up the inside of the drain holes, and a bit on the bottom of the casting, to expose bright metal, then taped over the hole from inside and filled the holes with thickened epoxy from the underside, adding extra blobs on the base of the fitting.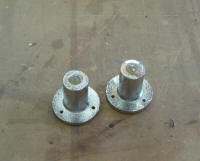 Total Time Billed on This Job Today: .75 hours
<Previous | Next>