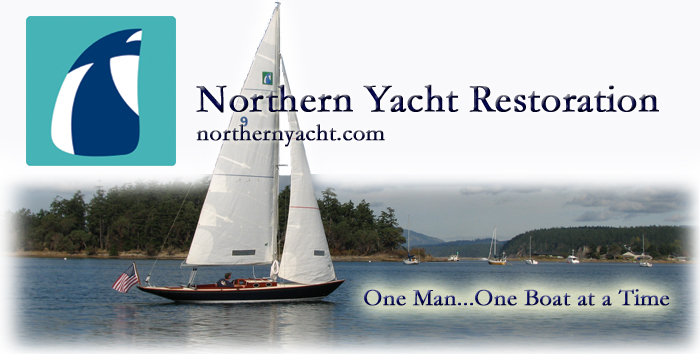 110 Cookson Lane | Whitefield, ME 04353 | 207-232-7600 | tim@lackeysailing.com
Skeedeen | Tuesday, December 7, 2010

I spent a good portion of the day's available time on the brightwork once more, sanding yesterday's coat and getting ready to apply a second maintenance coat to all the areas.

Because of some other things I needed to do in the shop, I left the companionway doors and other removable pieces fore refinishing another day, but applied the second coat of varnish to all the brightwork on the boat itself.

After several more iterations and backs-and-forths, the owner settled on the final version of the new transom graphics, and as of this writing I was awaiting final proofs and details from the graphics shop.

I wanted to get started on the wooden backer board for the new electrical panel, so that I could get it varnished and ready for installation. The backer board was required to cover the openings from the old panels, since stock panels featured a different size and shape that was incompatible with the cutouts that existed in the bulkhead and within the space limitations available.

I resawed a 3/4" teak board into a 3/8" thickness and sized it to match the space requirements. Then, I laid out the template for the new panel and cut out the required opening. After cleaning up and sanding the properly-sized backing board, I tested its fit in the boat. Later, I'd make the additional cuts in the bulkhead as necessary to match the new opening in the backing board.

The new panel, as with most stock panels, came with eight slots for circuit breakers, but only five installed. I spent a few minutes installing the three additional breakers to fill out the panel.

After test-fitting the new electrical panel, I applied a sealer coat of varnish to both sides of the teak backing board.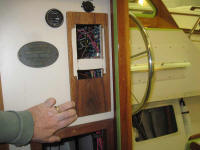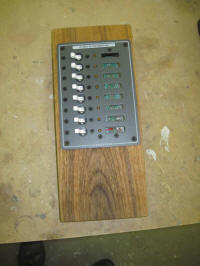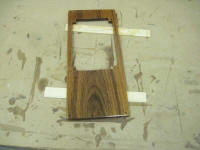 I spent the remainder of the day's time absorbing the installation information for a new kill switch the owner wanted installed, and ensuring I had what was necessary to properly install the various components.

Total Time on This Job Today: 6.75 hours